France Orly Airport shooting: Suspect shot police officer during earlier traffic stop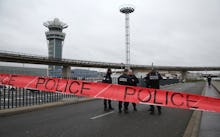 A man was fatally shot after trying to steal a soldier's gun early Saturday morning at France's Orly Airport outside Paris.
Before his attempt to snatch the assault rifle, he shot a traffic cop in a Paris suburb, the Washington Post reports. 
After shooting the traffic cop, the man hijacked a woman's car in a different Paris suburb and then went to Orly, where he was eventually shot and killed after trying to grab a female soldier's firearm. The Paris prosecutor's office is investigating the incident as a possible terrorist act.
According to the New York Times, a partial evacuation of the airport followed the shooting. Authorities searched terminals to determine whether the man had stashed any explosives inside. 
The Post reports that the shooter's identity has not been released, though prosecutors confirm he is 39 years old and has a criminal record, including nine drug and robbery offenses. He's never been suspected of terrorist activity before, though he has "been on the government's radar" for Islamic extremism. 
The soldiers involved in the incident were part of Operation Sentinel, a special force of about 10,000 soldiers who mostly patrol tourist destinations and places where commuters congregate. The force was created after the attack on satirical newspaper Charlie Hebdo. 
After noon, the 3,000 or so passengers who were stranded by the shooting at Orly were able to take off. 
According to the Post, France has been under an official state of emergency since November 2015, when a series of attacks by ISIS left 130 people dead.