Out transgender man Tomoya Hosoda elected to public office in Japan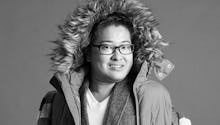 25-year-old Tomoya Hosoda was recently elected a councillor in the city of Iruma, Japan, according to Gay Star News.
Hosoda came out as transgender while studying at Teikyo University. Now graduated with a degree in medical science, Hosoda will fill one of Iruma's 22 city councillor seats in his new position. 
"Until recently, people have acted as if sexual minorities do not exist," Hosoda told Stonewall Japan. "We have many hurdles to overcome, but I hope to live up to everyone's expectations." 
According to Stonewall Japan, Hosoda worked as a student to to lower STI rates in Japan as a student and raise trans visibility. As an elected official he wants to fight for LGBTQ rights, as well as the rights of the elderly and people with disabilities.
There's at least one other instance of a trans man holding an elected office. In Nebraska, Jay Irwin was sworn in as a Ralston school board member in January, according to the Omaha World-Herald. 
Many other transgender people — though no out trans men — have been elected to public office across the world, including Georgina Beyer, the first transgender woman elected to New Zealand parliament in 1999. 
March 22, 2017, 11:29 a.m.: This article has been updated.