California police shoot and kill 16-year-old pregnant teen in stolen car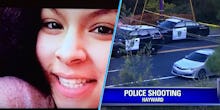 When California police opened fire on a suspect in a stolen car, they also killed pregnant 16-year-old Elena Mondragon, who was in the vehicle, KTVU reports.
Police shot into the car, which was connected to multiple robberies in the Bay Area, after the vehicle's male driver drove into police cars and injured two detectives, authorities said. Mondragon was in her first trimester of pregnancy when she was killed, according to the coroner. 
According to the Fremont Police Department, Mondragon was treated at the scene for her gunshot wounds, then taken to a trauma center. 
The male driver ran from the scene but was caught on Wednesday. 
"She was only 16," Mondragon's uncle, Miguel Minjares, told KRON4. "It's not the same knowing she's not going to be here tomorrow. It's just hard. It's just hard."
Minjares stared a GoFundMe to help Mondragon's mom, a single mother, handle the financial stress of burying her daughter. The fundraiser has raised more than $3,900 against a $10,000 goal. 
"Her single mother does not have means or frame of mind to handle these details," Minjares wrote on the fundraiser. "We as a family are asking for support & love at this crucial time. God bless & Thank You." 
In December, the San Francisco police union filed a lawsuit against the city over its "use of force" policy, which prohibited officers from doing things like using chokeholds and shooting at moving vehicles. 
The Department of Justice agrees that police officers should not shoot into moving vehicles, the Guardian reports. The practice is viewed as ineffective at getting drivers to stop and risks innocent parties, like Mondragon, being hurt. 
The Hayward Police Department and Alameda County District Attorney's Office will investigate the shooting, according to the Los Angeles Times.