Chuck Berry, legendary rock 'n' roll pioneer, confirmed dead at 90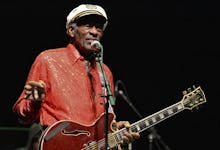 Just months after announcing his first album in 38 years, Chuck Berry, one of the early fathers of rock 'n' roll, died Saturday at age 90, according to the St. Charles County Police Department in Missouri. 
Responding to a medical emergency at 12:40 p.m. the first responders found the guitar legend unresponsive and failed to revive him.
Berry's influence on the development of rock 'n' roll is immeasurable. His blues and country-inspired riffs and lyrics glorifying teenage life's wild joys gave rock a conceptual baseline for other early rock stars like Elvis Presley, Little Richard and Jerry Lee Lewis to develop in the decades to come.
Born in St. Louis, Missouri, on October 18, 1926, Berry picked up the guitar as a teenager and started out playing in blues bands around Missouri, before meeting Muddy Waters in 1955. The bluesman introduced Berry to Leonard Chess, cofounder of Chess Records. With the storied label, Berry recorded "Maybellene," his first no. 1 on Billboard's rhythm-and blues-chart. 
The guitarist recorded some of his most famous songs with Chess, including "Roll Over Beethoven," "Rock and Roll Music" and "Johnny B. Goode."
Many of his songs, such as "Promised Land" and "Too Much Monkey Business," satirized America's class tensions and societal mores. The gleeful, rebellious, devil-may-care attitude of his music flew in the face of more traditional lyricism and helped set rock 'n' roll apart from other music by making it seem like an exciting and dangerous new wave in music history.
Berry was one of the first musicians to ever be inducted to the Rock and Roll Hall of Fame when it opened in 1986. "After Elvis Presley, only Chuck Berry had more influence on the formation and development of rock 'n' roll," the Hall of Fame's website reads. "Name any major band — the Beatles, the Rolling Stones, Aerosmith — and they'll have cited Berry as an inspiration."
Following the announcement of his death, artists and admirers of the musician offered their farewells on Twitter, highlighting the icon's influence across music.
Mic has ongoing music coverage. Follow our main music hub here.