Drake drunk texts J. Lo on 'More Life' opener "Free Smoke" and Twitter is dying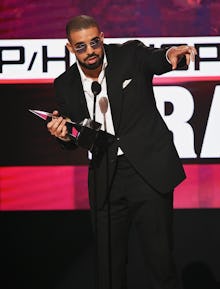 Drake finally addressed his alleged relationship with Jennifer Lopez after months of posting provocative photos and romantic videos. The Toronto rapper makes a reference to his former rumored love on "Free Smoke," the opening track of his long-awaited playlist More Life.
On the song's second verse, Drake details a hilarious L he took one night trying to text the pop star: "I drunk text J-Lo/ Old number, so it bounce back." 
It's peak Drizzy, a perfect example of the rapper's heavy-hearted takes on relationship woes and the first-world problems they create. Twitter had a ball with it.
"Free Smoke" isn't the only J. Lo nod on the album. Later in the project, a chopped and screwed sample of the singer's classic 1999 hit "If You Had My Love" serves as the hook for "Teenage Fever." It bookends Drake's verses contemplating the mistakes he made the night before. Twitter was all jokes about that song as well, laughing at the fact that all the talk about their rumored relationship seemingly amounted to a simple sample clearance.
Viewed from another angle, the two songs create a short narrative out of their relationship rumor. Drake's blustering reveals J. Lo's changed her number on him on "Free Smoke" and he quietly laments it in a more introspective moment on "Teenage Fever." He only has a warped version of her voice to hang onto.
Drake's More Life does include features from some of the biggest names in hip-hop and R&B, including Quavo of Migos, Kanye West, 2 Chainz, Young Thug, PARTYNEXTDOOR and Jorja Smith, who sings the romantic duet "Get It Together." Other users on Twitter thought that might have been the song the two were supposed to record together before the two artists went their separate ways.
Who knows though? For all we know their formal collaboration is still coming and this is just the beginning of Drake's long con of the rumor mill.
Mic has ongoing Drake coverage. Check out our main Drake hub here.