Tomi Lahren says she's pro-choice on 'The View,' gets dragged by conservative Twitter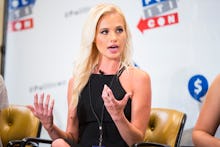 Strident conservative mouthpiece Tomi Lahren may finally have said too much. 
In a Friday segment on The View, the 24-year-old political commentator, who has offended many with her spirited defense of President Donald Trump, gun rights and reverse racism has alienated much of her fan base with her defense of a less predictable issue: a woman's right to choose. 
"I'm pro-choice and here's why," Lahren told The View co-hosts, when prompted to speak on the subject of Trump's subpar treatment of women. 
I'm a constitutional — you know, someone that loves the constitution and I am someone that's for limited government, and so I can't sit here and be a hypocrite and say 'I'm for limited government, but I think that the government should decide what women do with their bodies.' I can sit here and say that, as a Republican, and I can say that, 'You know what, I'm for limited government, so stay out of my guns and you can stay out of my body as well.'
Conservatives on Twitter are, predictably, having none of that. 
The Reagan Battalion tweeted footage of Lahren describing abortion as "murder" side-by-side with her statement from The View.  
Other accounts called Lahren a hypocrite, accusing her of saying what the show's hosts wanted to hear. According to many Twitter users, it's impossible for a person to be both conservative and pro-choice. 
As the Daily Beast's Erin Gloria Ryan pointed out, Lahren has previously criticized the feminist movement for excluding women whose views didn't align with liberal values. Lahren's position on abortion has always been somewhat murky: She's defended women who don't believe in abortion against snubs by women's rights activists; she's acknowledged the extreme difficulty of choosing not to carry a pregnancy to term; she's also inferred that she does not support abortion rights, although she's somewhat flexible in her dogma on that score. 
In any case, Lahren seems to have lost the faith of many fans. On Saturday, she responded to the backlash, standing by her statement on Twitter. 
Mention of truth prompted rebuttal from Lahren's colleague at the Blaze, Kate Scanlon:
Lahren's pro-choice stance has reportedly left her position at the Blaze shaky. According to conservative news site the Daily Caller, she could be leaving the outlet by September or possibly sooner, her comments on The View having proved a final straw. 
Still, Lahren is out there, tweeting her truth: