Waiter asked Latina women for "proof of residency" before taking their order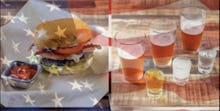 A waiter at a Southern California restaurant has been fired after asking a group of Latina women to provide "proof of residency" before taking their drink order, the Washington Post reported Sunday. 
On March 11, Diana Carrillo visited Saint Marc restaurant in Huntington Beach, California, with her sister and two friends. In a subsequent Facebook post, she recalled that the waiter had explained, "Yeah, I need to make sure you're from here before I serve you."
"For a few seconds I thought maybe he was being a smart ass or joking," Carrillo wrote, calling the employee's words "unacceptable." The group spoke with Saint Marc's manager, and according to the Post, the server was fired.  
"I don't know if he had an agenda or not," Kent Bearden, Saint Marc's senior director of operations, told the Post. "My concern is he violated a company policy. We're very specific about how we treat out guests. That individual did not treat a table of guests to the expectations that we set forth in that company policy, and that caused him to be terminated."
The women declined Saint Marc's invitation to an extravagant, conciliatory dining experience, according to the Post, but did accept the restaurant's offer to donate 10% of its weekend earnings to their preferred cause. They chose Orange County Immigrant Youth United.
Saint Marc could not be reached for comment, so we don't know to what degree the incident has affected the restaurant's profits. Still, the comments on the restaurant's Facebook page give some indication of patrons' opinions.
"My girl is a woman of color," one user wrote on the restaurant's post about a St. Patrick's Day event. "She was born in the USA, do we need to show you her birth certificate to make a reservation? Should I email it to your main office?" 
On Twitter, one user responded to the restaurant's March Madness post with "yes! Come in Wednesday. But only if you are Caucasian."