Drake 'More Life' track list: The 6 best songs from his playlist project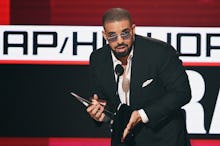 After months of delays, Drake finally put the finishing touches on More Life, a playlist by October Firm, and shared it with the world on his OVO Sound Radio show Saturday via Apple Music. It came with a prayer: "More time with family and friends. More life," Drake wrote in an editor's note on Apple Music. "I've still got more vibrations to send. More Life."
It's as good an introduction to the album as anyone could ask for. More Life is a celebration — of Drake's continuing victories over the lames and haters, of the real friends and family that have stuck with him along his rocky path to success, of life itself and all its occasional headaches. Its bolder than Views in nearly every aspect. Its highs are higher, and its lows are deeper and richer hued. It clocks in about the same run time, a full hour and 20 but feels significantly less tedious, with way more variety and rewards for those interested in entering Drake's world of generous Champagne pours, cold nights and private flights overseas.
More Life is a family affair. Drake shares the spotlight with close OVO affiliates including Skepta, Sampha and PartyNextDoor, alongside some of hip-hop's creative powerhouses — Kanye West, Quavo of Migos and Young Thug. It's casual, not overly obsessed, with its own success, as many saw Views, which retread familiar pathways in Drake's story, recycling concepts and bowing to trendy radio sounds.
Drake is more adventurous, leaning into his dry, sardonic humor to come up with new fun ways to self-deprecate, as in his J. Lo drunk texting line on "Free Smoke" — "I drunk text J-Lo/ Old number, so it bounce back." His beat aren't nearly as one note, dabbling in vapor wave and messing around with some of the same wonky flutes that made Future's "Mask Off" such a joy.
Stated simply: More Life makes it fun to root for the burgeoning Drake empire again.
The loose, party atmosphere fits the way Drake has been billing. As he said announcing the record in October: "I want to give you a collection of songs that become the soundtrack to your life," he said. "I had a great tour. I had a great summer. And most people would like go probably take a break, but for me, I just want to get right back to it. Be with the people again."
Below are the six tracks not to miss, the ones where his affirmations and ruminations hit hardest. All the lyrics quoted below can be found on Genius.
"Free Smoke"
To kick off the festivities on "Free Smoke," Drake looks all the way back to his beginnings. He raps on struggling to pay his bills, get his tours off the ground, "eatin' Applebee's and Outback ... no first class." It does everything an opener should do: Set the tone. Place the release in time. And clarify who wears the crown in this relationship between listener and MC. Question that, and you may find some free smoke, from a well-aimed shot, wafting your way.
"Passionfruit"
"Passionfruit" is one of the highest realizations of the lightly cheesy, endearingly corny love anthem Drake loves to author again and again on his projects. Over a little nu-disco and vaporwave beat, the rapper dwells on his inability to maintain a long-distance relationship. The interplay between a profoundly unsexy elevator-music aesthetic and the fading passion Drake describes in the lyrics offers a surprisingly compelling portrait of the artists' bleak outlook on love and trust.
"Get It Together" featuring Black Coffee and Jorja Smith
"Get It Together" is the song Drake had supposedly been putting together with his rumored beau Jennifer Lopez. But now, she's nowhere to be found. Instead we get capable vocal accompaniment from Jorja Smith, an up-and-coming British singer-songwriter. The simple romantic asks that she peppers into her verses help the track feel infinitely tender and personal: "Do all the little things, little things/ That excites me," she sings. "And as your woman/ Give me a kiss goodnight/ On the phone/ When you're working late/ When you're out of town." It's heart-melting if you open yourself to it.
"Portland" featuring Quavo and Travis Scott
The album's first star track "Portland" helps start off the more rap-heavy middle section. Drake solicits help from two of the most sought-after talents — Quavo of Migos and Travis Scott — and bites one of the most unexpected must-haves in rap album craft — the disarming, chipper flute sample. Future and Migos have both used it to great effect on their recent albums, creating deep, booming fan favorites out of melodic lines that wouldn't traditionally have much intrigue outside of a high school recorder concert.
"Teenage Fever"
"Teenage Fever" provides another brief J. Lo sighting. While ruminating over the mistakes he made the night before in verse, Drake uses a chopped and screwed sample of Lopez's "If You Had My Love." It creates an interesting narrative out of the two singers' rumored relationship. Whatever chemistry there once was is dead and gone, and all Drake has left is a ghostly echo of one of her past hooks.
"Glow" featuring Kanye West
Kanye West is back. "Glow" is the first song of 2017 to feature lyrics from the rap god and the first since his hospitalization in November. Making the moment that much richer is the fact that this isn't just any toss-off Yeezy verse. According to much of Twitter, old Yeezy, Late Registration Yeezy, is back. The Chicago legend sounds great, acting as a glorified hype man to singing Drake after delivering one of his classic syllable twisting verses. 
Kanye is back and healthy. Drake is making good music again. All is right in the hip-hop world — for now.
More Drake news and updates
Mic has ongoing coverage of Drake's rise from mixtape sensation to Billboard-chart icon. Read our coverage of Drake's massive 2015 and his record-breaking 2016 — from Views becoming the first in 2016 to hit a million sales, to his becoming Spotify's most streamed artist to a close look at his meme mastery. Check out our look at whether all the Views hype was deserved and how the rapper can do better in 2017.