Man charged with hate crime in beating of 2 transgender women at NY McDonald's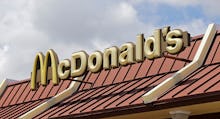 A Long Island man who beat two transgender women Friday outside a McDonald's in Queens, New York, has been arrested and charged with a hate crime. 
According to DNA Info, 38-year-old Patrick O'Meara was reportedly heckling passersby at random before he spotted the women, who were entering a McDonald's in Queens' Jackson Heights neighborhood late Friday afternoon. O'Meara allegedly called them "bitches" and "faggots," throwing one woman to the ground before proceeding to punch and kick her. DNA Info reported O'Meara "briefly left the scene and returned with a cane," which he used to hit the other woman, cutting her hand. One of the victims also fractured her ankle during the attack, according to the report.
Upon his arrest, O'Meara told the police the women had "assaulted" him, but one witness disputed that account. "He was harassing everybody that was walking by, but when the trans women walked by he clearly was infuriated," Maria Munoz told DNA Info.
O'Meara was later charged with assault as a hate crime and is being held at Rikers Island pending bond or cash bail. His next court appearance is March 31. 
According to the New York Daily News, O'Meara has eight prior arrests on his record. In January, police took O'Meara into custody after he allegedly got drunk and stole a Volvo in Manhattan; at the time of his arrest, cops reportedly found a "glass crack pipe in his pocket." 
On March 1, the New York City Anti-Violence Project reported there had been seven murders of transgender people so far in 2017. A few days later, a transgender woman was shot while fleeing the scene of a robbery in New Orleans. As documented by Mic's Unerased project, it's hard to know how many transgender people are killed annually because police reporting requires officers to check one of two boxes when identifying victims: male or female. Often, neither law enforcement nor coroners have the tools to identify transgender victims, and the victims' families might not identify them as such.
Violence against transgender people is woefully underreported, but advocates will keep fighting to make sure victims don't disappear, transgender woman and Make the Road New York community organizer Bianey García told NBC News 4 in a statement.
"We are horrified that transgender individuals in our community have suffered yet another hate attack," García said. "We will continue to organize in our communities and send the message that Jackson Heights and New York City must welcome and embrace all of us, and that hate has no place in our neighborhood and our city."