Rodney James Hess shot and killed by police while streaming on Facebook Live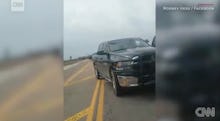 The Tennessee Bureau of Investigations is currently probing the shooting of Rodney James Hess by sheriff's deputies in Crockett County, Tennessee, on Thursday afternoon, CNN reported.
Hess, a 36-year-old New Orleans resident and father of three, was approached by police when his vehicle was parked at a perpendicular angle along Highway 412 near Alamo, Tennessee. Officers alleged Hess made erratic statements and reportedly tried to strike officers twice with his vehicle.
In response, the officers fired shots into Hess' vehicle. Hess continued driving after being struck by the gunfire, and later died from his wounds after being airlifted to a Memphis hospital, according to CNN.
"During the escalation of events, at least one Crockett County deputy fired his service weapon through the front windshield of the vehicle driven by Hess, striking him," TBI spokesman Josh DeVine said in a statement, CNN reported. "At this time, we do not believe Hess used a firearm in connection to this incident."
Hess recorded his fatal exchange with police on Facebook Live. The shaky video shows police approaching and shooting into Hess' vehicle vehicle after Hess said, "I would like the higher commands to come out."
"At the time there was no threat," Hess family lawyer Don Rouzan told CNN about Hess's statement. "He was asking for a supervising officer and they opened fire."
Though Hess caught the event on video, he did not capture images of the officers who shot him. The TBI is currently investigating the timeline of events and will present evidence to the district attorney general, DeVine said, who will then determine "whether the deputy's actions were justified."
In a separate Facebook video, Hess's family asked for any witnesses to come forward.
"We're just praying ... that justice will be served and if there's anything that's covered up, that it will be brought to light, that it wouldn't be just another black man shot by police officers," Hess' grandfather Lee Smith said in the video. "All we're asking for is justice."