All the immigrant designers Melania Trump has worn so far: a running list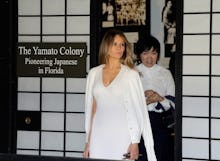 Two months into her tenure as first lady, Melania Trump is still finding herself in an awkward position within the fashion industry. 
Because she is linked with an administration that poses a threat to many of the people that fashion has come to embrace, from women to immigrants to Muslims, the fashion world remains hesitant to outfit her. Several designers have come out and said that they would like to never dress her — some have been adamant in their stance. 
A first lady's fashion choices have often come under a microscope, with first ladies like Hillary Clinton smartly using fashion as a way to make tiny political statements — or even diplomatic ones, as Michelle Obama often did. But perhaps due to the divisiveness of the Trump administration, or perhaps because of how little she's said and done thus far, there appears to be an even harsher spotlight on Melania Trump, and who she wears. 
For example, if she ever wore a Muslim designer, she'd certainly send the fashion world into a tizzy, due to her husband's own policies and attitudes towards Muslims around the world. If she were to wear one of the designers who have come out against dressing her (like she did during week three) — which is something she could easily do by buying off the rack — it'd be weird too. 
Then there's the immigrant issue, which has emerged since Trump's travel ban and harsh actions on immigrants. If she were to wear an immigrant designer, it could be perceived like if she were to wear a Muslim designer: A tiny sign of support, or at least respect. 
So in honor of that, we've decided to keep a tally of the immigrant designers she's worn. Thus far, in her first two months as first lady, she's worn just one.
1. Francisco Costa for Calvin Klein 
For a tour of a Japanese garden in Delray Beach, Florida, in February with Akie Abe, the wife of the Japanese prime minister, Trump wore a Calvin Klein dress designed by Francisco Costa, who was born in Brazil and came to the United States when he was just 21, without knowing much English at all. 
According to Elle, after Costa arrived in New York City, he got hired by Oscar de la Renta and Tom Ford, and was then granted American citizenship in the '90s. 
Although the label of the dress was Klein, it was from a collection Costa designed. 
At time of writing, Costa is the only U.S. immigrant designer Trump has worn as first lady, although there are a few outfits that still remain unidentified, like the black dress she wore to the annual Governor's Dinner, the black lace dress she wore to dinner with the Japanese prime minister and the casual blue sweater she wore while reading at a hospital in New York City. Also, the night before she officially became first lady, Trump wore a dress by Reem Acra, an American designer born in Lebanon. 
As first lady, her clear affection for solely American and European designers still stands at odds with first ladies in recent history, who have quickly embraced immigrant designers. 
There's been people like Dominican-American designer Oscar de la Renta, who was a favorite of former first ladies Nancy Reagan, Laura Bush, Hillary Clinton and Michelle Obama early on, even dressing Bush and Clinton for inaugural festivities. There's also been Venezuelan-American designer Carolina Herrera, who often dressed Nancy Reagan. And then there's Indian-American designer Naeem Khan and Jason Wu, who was born in Taiwan, grew up in Canada, and is now based in the U.S. Both Kahn and Wu became favorite designers of Obama, among many more. 
But with Melania Trump, as per usual, it's just a bit different. 
Mic will continue updating this list throughout the next four years.