In deep appreciation of Shoshanna from 'Girls' and her highly underappreciated style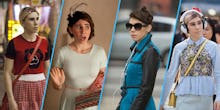 On Girls, just like on Sex and the City, each woman has a style all her own. Hannah is the unkempt one, with clashing patterns and purposefully ill-fitting shapes. Marnie is the classic one, with plenty of A-line skirts and not a hair out of place. Jessa is the bohemian, wearing completely sheer outfits and rocker T-shirts. 
And then there's Shoshanna Shapiro, played by Zosia Mamet, a woman of such endearing naïveté and complexity that you can't really help but root for her. 
Out of all the characters on the show, she has the most of what all fashion icons have: the ability to be absolutely, undeniably unapologetic. 
It's been an easy thing to overlook. When we first saw Shoshanna, she was wearing headbands, barrettes and pink sweatsuits. But season after season, she has grown into her own, making herself over and over again, trying on different looks and styles until she found one that felt like her own, unapologetically. 
It's been a painfully relatable blast to see her evolve over these past six seasons, so we thought it's high time that she get the style appreciation she deserves. 
Here's to you, Shosh. 
Season one
Oh, season one Shoshanna; we loved you so. Between the pink sweatsuits and the fuzzy slippers, Shosh was actually the most realistically dressed Girls cast member, presenting an entirely relatable sort of person, one you probably met during your own freshman year in college. 
Was she basic? Yes. Absolutely. 
But then again, who doesn't love a snuggie? 
The only time Shoshanna really looked like a 21-year-old woman is in the very last episode of season one, when she attended (season one spoiler alert) Jessa's surprise wedding. 
Season two
In season two, Shoshanna got her fair share of fashion trademarks. 
Yes, she still favored fluffy pink loungewear. 
But most importantly, she came to embrace hats and headbands... 
(Like a lot.) 
... and braids...
... and whatever this is, too. 
Season three
Of course Shosh had to get a season where she was the most glamorous — or at least trying to look like she was. 
For season three, she ditched the girly tweed and headbands and opted for form-fitting party dresses and tons of belts, ditching circle skirts for pencil skirts.
She even, for the first time, snuck in a little cheetah print too. 
A truly momentous moment for Shosh. 
Season four
Let season four go down in Girls history as the season Shoshanna got Charlotte-fied, meaning that she started to look more and more like Charlotte in Sex and the City. 
Although Shoshanna would probably be thrilled about this development, what it really meant for us is that she wore essentially what she thought women just entering the workforce should wear: statement necklaces, for example. 
Oh, and Chanel-looking suits. 
But the problem with these outfits, cute as she may have looked in them, is that it still felt like Shoshanna was dressing like someone who wasn't really her. She was dressing like someone who she thought she should be, maybe.
Like her outfit here for a stuffy job interview: 
And here she is looking equal parts patriotic and 20-something for a campaign party for Ray: 
It was almost like she was dressing in costumes throughout season four, but that wouldn't last long. 
Season five
In season five, Shoshanna finally got a bit of the fashion attention she deserved, with a brand new shorter, blonder and pinker hairdo and a peek into her life in Japan, where she finally dressed without any real trends in mind. 
For example, she wore wide-leg pants and a halter over a button-up.
She wore a dress with a vest. 
She wore this cute sweater with iridescent discs: 
And this cute sweater, too: 
She was practically Carrie Bradshaw, save for the plastic nurse costume she slipped on one time. 
Even when (season five spoiler alert) she came back to America in the middle of the season, she came back with a style that was a far cry from Shoshanna of seasons past, with her — maybe for the first time ever — actually having fun with clothes and her hair rather than trying to look like someone who she isn't. 
Like this very modern, monochromatic look. 
And this very cute take on Carmen Sandiego.
This is the very first time we were able to see Shoshanna's style shine, and it's something that's continued in Girls' most recent season, as well. 
Season six
Although season six hasn't seen a ton of Shoshanna, her style is still all her own, with cute graphic T-shirts and a knack for mixing high and low, with T-shirts worn with sparkly skirts, and workwear that doesn't look like it belongs at a Bat Mitzvah. 
At this point in the show, of all the characters, Shoshanna's style has evolved into the most covetable. That's saying a lot, too, given that the first time we saw her she was wearing a pink sweatsuit.