Drake's 'More Life' playlist is everything the 'Views' album should have been and more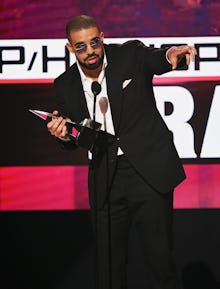 For the past two years or so, Drake's music has been missing something — though it's been difficult to figure out what that was. 
His 2015 Future collaboration, What a Time to Be Alive, should have been an easy layup: two of rap's ever brooding trendsetters trading boasts over codeine-laced trap. Yet, somehow, Drake managed to make that casual project feel unnecessarily tedious. He rapped like he was nervous to look lame next to the ferociously productive Future, or that he wasn't sure Atlanta trap was really where he belonged. Similarly on Views, there was a stiffness to the Toronto rapper; as if surrounded by Noah 40's lush, immaculate production he couldn't risk venturing out of his well-worn lyrical pathways. 
Yet More Life, the rapper's long-awaited playlist project released Saturday, is different. The OVO boss is dead set on not having it referred to as a mixtape, but it listens as all great mixtapes should. It's got a plethora of guests, not arranged for their chart-topping power, but for their ability to sound great on a track together. Drake sounds unburdened, rapping about pretty much the same topics — lost love, fake friends, the city that raised him — but with a new confidence in his revelations and a comfort in not having all the answers. 
He's been trying to feign it for a long time, but finally, Drake sounds like he's having fun building an empire. 
Drake the fearless curator on More Life
One of the things that immediately set Drake apart from the hip-hop's old guard is that he was down to air his quirks, play up his anxieties and trip himself up for a laugh, like mainstream hip-hop's Seinfeld, in short.
It kept him grounded, approachable and, yes, soft, in the eyes of many. Yet as with most oddballs that go upper echelon, Taylor Swift being the closest analogue, he straightened out on his blockbusters, refusing to play with his sound or get too cheeky, lest he actually flop.
Having achieved nearly every possible chart and streaming achievement with Views, Drake has far less fucks to give, and that's done wonders for his sound. 
He isn't nearly as hesitant to reach for the high-reward melodies over risky beat choices, as he does on the vaporwave lounge jam "Passionfruit." The innocuous elevator muzak brings out all the hazy disillusionment in Drake's lyrical laments about not being able to keep the passion alive in a long distance relationship. He has fun with the wonky flutes of "Portland" and weaving in and out of the xylophones of "Sacrifices." 
He experiments with songwriting techniques on "Glow," which marks Kanye West's first new verse since his hospitalization in November. The lack of a discernible beat to anchor the proceedings forces Kanye West to simplify his flow back to its Late Registration form, a welcome return for his beleaguered fan base.
Drake does this consistently on More Life: he brings out the best in his guests, and in turn finds more effective ways to spotlight those who inspire him.
The British invasion on More Life
As evinced throughout its branding, More Life is a posse album. It's a "playlist by October Firm" as its cover reads, a nod to Britain's crime families. It sounds at times like Drake is trying to spark the next British invasion. The rapper gives top-billing to rappers Skepta and Giggs, R&B luminaries Sampha and Jorja Smith and tries to alternatively imitate the grime lingo and Caribbean patois whenever the mood strikes — which is a lot. Perhaps too much.
Much has been said about Drake's status as a culture vulture. In recent years, the Toronto MC has run his career by leaping from one hot scene to the next, vacuuming up the fruits along the way like Kirby eating his way through Dreamland. He's done it with the synth pop revival; he's done it with dancehall; now he's doing it with grime. However, this time around he's comfortable letting the leaders of the genre get the best look, confident attention will return even if he's lyrically outshined. 
Where on Views, he'd rather cut the leaders of the genres he's working with, such as Popcaan on "Controlla" for "business" reasons, on More Life lets grime icon Skepta open the album's rap-heavy middle section with "Skepta Interlude." There, he delivers one of the album's key lines: "Like Martin Luther, man, I had a dream/ Now it's my world, you can have the scene." 
It's a vision of a globalized hip-hop, one that dreams of having rappers cross borders freely, which the album plays out. It has its questionable moments — where it feels like Drake is actually benefitting far more from these collaborations than the up-and-comers he's highlighting. And in it we can catch a glimpse of Drake's next identity crisis — one other rappers, including West, also face today: is he more skilled as a creator or curator?
Drake makes his haters think on More Life
Beyond his humility, Drake's insights have a lot more bite to them than they have on previous turns, when the best he could come up to describe his role in hip-hop was, "I'm a staple in the game, all my papers together." He shows the mirror to his critics on "Lose You," pointing out an odd contradiction in the way rap fandoms run their course: "People like you more when you workin' towards somethin'/ Not when you have it."
Later in that verse, he tries to find that single point, when his music lost potency: "When did all the things I mean/ From the bottom of my heart start to lose meaning?" he raps. "Maybe I share it with too many people/ Back then it used to just feel like our secret/ Back when I would write/ And not think about how they receive it."
And there's the key to why More Life works: Drake doesn't seem to be caught up in thinking about how the people receive it. He's writing songs he wants to hear, rather than what he thinks the radio demands. And what he wants to hear is Skepta and Young Thug — dancehall, grime and Toronto hip-hop sharing a toast, feeling empowered, feeling good. It provides a much more promising path forward than Views ever did. If Drake remains willing to play the student while working to highlight the world's next big sounds, his music will stay enjoyable for years to come.
More Drake news and updates
Mic has ongoing coverage of Drake's rise from mixtape sensation to Billboard-chart icon. Read our coverage of Drake's massive 2015 and his record-breaking 2016 — from Views becoming the first in 2016 to hit a million sales, to his becoming Spotify's most streamed artist to a close look at his meme mastery. Check out our look at whether all the Views hype was deserved and how the rapper can do better in 2017.