Trump's approval rating just hit its lowest point ever, according to a new Gallup poll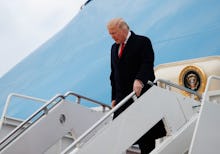 President Donald Trump has a ratings problem, and we're not talking about the New Celebrity Apprentice.
Just two months into his first term, only 37% of Americans approve of Trump's job performance, according to a Gallup poll released Sunday. His disapproval rating, meanwhile, hovers around 58%.
The numbers are a stark contrast to the approval rating of his predecessor, Barack Obama, who at the same point in 2009 had a 61% approval rating according to the same poll.
Gallup data is obtained through phone surveys of 1,500 Americans and has a margin of error of 3%.
The low approval numbers come amid a series of stumbles for the Trump administration, including the rollout of the widely panned GOP bill to replace the Affordable Care Act, a Hawaiian judge blocking Trump's second attempt on a travel ban and repeatedly failed attempts to substantiate the president's claims that the Obama administration wiretapped Trump Tower.
If only there were a popular catchphrase in our cultural milieu associated with poor job performance...