'The Walking Dead' Season 7 Theories: Who did Rosita see in the episode 14 cliffhanger?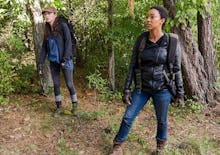 She might be pissed about it, but Rosita is left outside the Sanctuary in episode 14 of The Walking Dead's seventh season. Sasha's bold choice to go in solo forced Rosita to flee the grounds. However, Rosita isn't alone outside of the Saviors' compound. The silhouette of a mystery character — with some kind of weapon over their shoulder — stares in her direction, and from Rosita's reaction it seems like this person may be foe more than friend. Or is it a bit more complicated than that? 
My instinct on the first viewing of this scene was that the mystery person was Daryl, given that the weapon the person carries bears a strong resemblance to his signature crossbow. But in retrospect, it's more likely that Rosita's face-to-face was with Dwight, Negan's right-hand man. 
For starters, Daryl would've had a pretty long journey to make from the Hilltop to the Sanctuary, whereas Dwight lives in the Sanctuary. The physical resemblance — and what we assume is a crossbow over said character's shoulder — is a bit of a red herring, considering how similar both characters are. Bear in mind: Daryl is a TV-only Walking Dead character, and his closest comic book counterpart is Dwight. 
A Rosita-Dwight meeting could also set up something the show has been slowly teasing out from the comics: Dwight betraying Negan and the Saviors. 
Dwight's allegiance to Negan has slowly withered this season, and it's possibly reached a tipping point after Dwight's former wife Sherry leaves the Sanctuary — along with a heartbreaking note for Dwight lamenting all the terrible things he's done. Basically, if that's not enough for Dwight to become a turncoat, with only two episodes left this season, nothing is. 
So we imagine Dwight, assuming that's who we see in episode 14's cliffhanger, will use this meeting with Rosita as a way of changing allegiances. And for what it's worth, in the teaser trailer for the final two episodes of the season, Dwight and Rosita are nowhere to be seen. 
There's still a lot that has to happen in the final two episodes of the season. Alexandria still needs to nab the huge cache of weapons from Oceanside in order to get more people to fight the Saviors. Meanwhile, Sasha's trying to assassinate Negan, Morgan's fallen off the deep end, Jerry may soon run out of cobbler at the Kingdom and Maggie's relationship with Gregory at Hilltop continues to be contentious. At this rate, will The Walking Dead even have enough time to get to the "war" part of "All Out War"? 
The Walking Dead returns Sunday at 9 p.m. Eastern on AMC. 
Mic has ongoing coverage of The Walking Dead. You can follow our main Walking Dead hub here.