Kim DePaola Car Fire: What we know about the murder investigation linked to 'RHONJ' star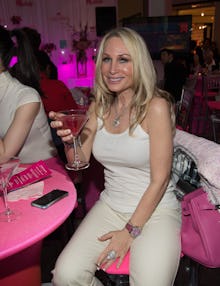 On Friday, March 17, Real Housewives of New Jersey star Kim DePaola's car was involved in a double murder in New Jersey. 
TMZ revealed on Sunday that two bodies were found inside of the Audi belonging to DePaola. The car had been burned and both of the victims had been shot in the head. 
It was also reported that Chris Camiscioli, Kim's son, was one of the regular drivers of the vehicle. Us Weekly reported that according to TMZ, Chris was out of town last week and a friend of his, Aaron Anderson, used the car to drive to the airport while he was away. 
According to sources, Anderson was told not to drive the car around the city. Family sources close to the DePaola's are saying that Camiscioli hasn't been able to reach the friend and is worried. Anderson's parents have also not been able to get in contact with him. 
"I've been calling him and it's going to voicemail. I would have heard from him," Anderson's mother, who only identified herself as Michelle, told NBC New York. "We're concerned. We have nothing definite, so we wanted to look at the spot. We're not sure yet. I'm hoping nothing happened," his father, Thurston Anderson, added. 
On Friday, police in Paterson, New Jersey, responded to a call regarding shots that were fired. When the cops arrived, DePaola's car was up in flames and the bodies inside the vehicle had been burned.
DePaola has made guest appearances on Bravo's Real Housewives of New Jersey over the years. She thanked everyone for their support in an Instagram post on Sunday.
"I am humbled by the outpour of love and support during this very difficult time. My son and I are both safe. Our deepest condolences go out to the victims' families of this truly horrific tragedy," she wrote in the note. 
No arrests have been made so far and police are continuing to investigate.
Mic has ongoing Real Housewives coverage. Please follow our main Real Housewives hub here.