Britney Spears reclaims throne as the world's No. 1 part-time, stay-at-home runway model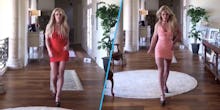 On March 6, we first reported that Britney Spears was adding another job to her lengthy resume as a part-time, stay-at-home runway model. 
At that time, we had two occasions (with six outfits total) in which the legendary "Autumn Goodbye" singer was seen strutting down her living room for no obvious reason other than the fact that wouldn't you be doing the exact same thing if you looked that good and owned that much house?
On March 18, Spears further confirmed this status with a new video on Instagram, complete with two outfit changes. "Option 1 or option 2?" she asked her 15.6 million followers, adding the hashtag #OOTD (outfit of the day).
Red mini-dress with a trio of cut-outs and a choker
Pink mini bandage-esque dress, choker intact
The new video has already received over 2.5 million views with 40,000 comments in which fans made their opinion known. The pink dress seems to be edging out the red in terms of favorability, but considering the myriad occasions Spears must dress for, we say why not both — or simply pull an outfit change next time she steps out.
Is a real-life runway in Spears' future? Or is she perhaps practicing her strut down the aisle with boyfriend Sam Asghari? Only time will tell.