Bullied because of her freckles, this model now has an important message about self-love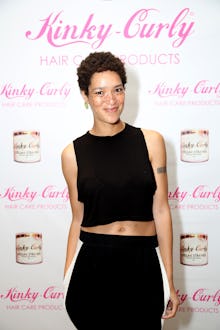 In an unexpected turn of events, freckles have now been deemed "trendy." People are getting them permanently tattooed and temporarily tattooed on their faces in order to look younger. 
What's most surprising about this trend is that for years, freckles had been seen as a flaw by many, with plenty of people with freckles attempting to cover them up with makeup. But now, freckles are a characteristic to be embraced. 
Nikia Phoenix, who has freckles herself, has feelings about this — especially because when she was growing up as a black woman with freckles, she got bullied. 
In a powerful Instagram post, Phoenix, who's also the founder of Black Girl Beautiful wrote, "These freckles have been on my skin since I was four years old. They weren't trendy when I was younger. No one was drawing on freckles or getting freckle tattoos. In fact, it was just the opposite. I was picked on a lot for my spots and it hurt." 
But, according to Phoenix, she's learned to love them. 
"But if given the option, I wouldn't change my skin," Phoenix continued in the post. "I wouldn't change what I went through. These freckles have helped to define me. They have made me stronger. I am a black freckled woman... and proud." 
In an interview with Mic, Phoenix told her story further. From a very young age until even still now, she's been singled out because of her skin. 
"As a kid I didn't really appreciate my freckles," Phoenix said. "Interestingly enough, I didn't have nearly as many freckles then as I do now, but they still became a source of ridicule. All I wanted was to fit in and my skin helped me to stand out." 
But still, the bullying Phoenix experienced, which sometimes manifested in her peers telling her she's not really black because she has freckles, hurt her and particularly her self-esteem. 
"I didn't know how to speak up for myself, so I internalized much of the bullying and teasing," Phoenix said. "Already a shy little girl, this only added to my self-doubt, which turned into a bit of social anxiety that I still deal with now." 
How Phoenix learned to love her freckles ultimately paralleled Phoenix learning to love herself — unique traits and all.
"It took years for me to embrace my skin the way it is," Phoenix said. "But I think coming into my freckles is just like any woman coming into her body. You learn to love and accept your hips, your curves, the quirky smile you once hated.... my freckles are one in the same. Now I get excited when I notice a new freckle on my face." 
So that's perhaps what's making Phoenix feel a bit miffed about this idea that freckles are now a "trend" to be embraced. She's fought hard to love them, despite society constantly telling her that she should cover them up. And now the beauty industry is telling people that no, they're actually trendy, like flared pants or clog shoes. 
"I'm actually pretty accepting of a lot of things especially beauty trends accept when it comes down to drastically altering your complexion," Phoenix said. "I appreciate that freckles are being celebrated, but I'm not into faux freckles or freckle tattoos. You have to understand or at least try to understand that there's been a stigma associated with freckled people like there's something wrong with us. I literally received a message a few days ago from a person concerned that my freckles could possibly be a disease. A beauty trend won't help us erase those negative experiences, but at least we can have these conversations about living authentically and loving your skin." 
Because after all, the current fetishization of freckles is doomed to fall out of favor eventually, too. And while women who use those temporary freckle tattoos can happily just stop wearing them, women like Phoenix will go on living proudly with freckles, no matter what the beauty industry thinks of them.
March 21, 2017, 3:37 p.m.: This post has been updated with quotes from Phoenix.