'Mass Effect: Andromeda' 1.03 Trial Update Patch Notes: Here's what the early patch does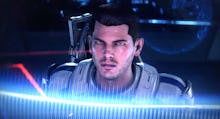 Did you decide to fork over a few bucks to get your hands on the Mass Effect: Andromeda early access trial before the full game releases on March 21? You might have noticed a new patch update — version 1.03 — downloaded during that time.
Mass Effect: Andromeda 1.03 trial update patch notes
According to the update notes on PlayStation 4, it's just a minor patch that addresses "various bug fixes and stability improvements," which should be welcome news to anyone concerned about the roughness some people have noted so far.
Now, that won't address some of the strange facial animations that have gained attention since the trial's release, but it's likely to help with the game running more smoothly overall.
More gaming news and updates
Check out the latest from Mic, including our deep dive into how female Overwatch players are dealing with online harassment, a cool making-of video for Legend of Zelda: Breath of the Wild and an article about what a Bechdel test for gaming might look like.