Stephen Hawking is worried about what Donald Trump will do to the planet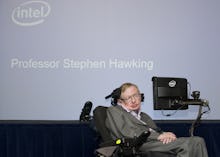 Stephen Hawking has devoted much of his life to studying the stars and planets beyond our own small corner of the universe — but President Donald Trump has him concerned about what's happening here on Earth.
In an interview with Good Morning Britain that aired on Monday, the famed author and physicist told host Piers Morgan that he was particularly concerned about how Trump's administration will handle climate change, which Hawking has, in the past, cited as an existential threat to the world that could potentially wipe out humanity.
Hawking criticized the choice of Scott Pruitt, "a man who does not believe that carbon dioxide causes climate change," to head the federal agency tasked with leading the U.S. fight against climate change.
"[Trump] should replace Scott Pruitt at the Environment Protection Agency," Hawking said. "Climate change is one of the great dangers we face, and it's one we can prevent."
Hawking also said that the recent trends in U.S. politics have made him concerned about future visits to the country, the Guardian reported. "I would like to visit again and to talk to other scientists, but I fear that I may not be welcome," Hawking said.
When Morgan asked if the "global liberal hysteria" over Trump's election was justified, Hawking said that Trump's victory represented "a definite swing to a right-wing, more authoritarian approach."
In 2009, Hawking was awarded the Presidential Medal of Freedom by former President Barack Obama — but it seems like he's concerned that his relationship with Obama's successor won't be as warm.
This isn't the first time that Hawking has gone in on Trump: In May 2016, during the U.S. presidential election, Hawking called then-candidate Trump "a demagogue, who seems to appeal to the lowest common denominator," CNN reported at the time.