'Mass Effect: Andromeda' Release Time: Here's when the full game unlocks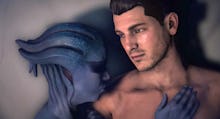 It's felt like an eternity since Mass Effect 3 launched in 2012, but now we're just a few brief hours away from the launch of Mass Effect: Andromeda. It officially comes out on March 21, but if you've pre-ordered the game digitally, you might be able to start smooching alien babes a few hours before then — depending on where you live, of course.
Here's what you need to know about pre-loading and playing your copy of Mass Effect: Andromeda as soon as it unlocks.
Mass Effect: Andromeda release time info
If you're in North America, you should be able to start playing at midnight, Eastern Time, on March 21. Yes, that means if you live in another time zone, you'll probably be able to start playing Mass Effect Andromeda before midnight. If you want to verify exactly when it will unlock, check the countdown clock at the top of the game's page on Origin. If you're playing on console, you should be able to view a countdown clock there, too.
If you want to play as soon as that countdown clock hits zero, you should make sure that Mass Effect: Andromeda has already finished downloading. To do this, you'll have to pre-order the game. The download should start automatically. The Origin site says you need 55 gigabytes of free space on your hard drive at minimum — including a few minor patch updates.
If you're downloading on PS4, make sure to leave your console in rest mode rather than shutting it completely off so it will continue progressing when you're not using it. 
More gaming news and updates
Check out the latest from Mic, including our deep dive into how female Overwatch players are dealing with online harassment, a cool making-of video for Legend of Zelda: Breath of the Wild and an article about what a Bechdel test for gaming might look like.