Melania Trump isn't trying to channel Jackie O anymore. Now it's all about Nancy Reagan.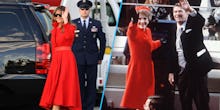 Mysterious as she may be, here's one thing we now know about Melania Trump: The woman loves to emulate former first ladies. 
She did it first at the 2016 Republican National Convention, when she lifted excerpts of Michelle Obama's 2008 DNC speech for her own. She did it again — not once but twice — with Jackie Kennedy, first emulating her style on Inauguration Day with a powder blue suit and gloves that looked identical to what Kennedy wore on Inauguration Day in 1961, and again in February in Palm Beach, wearing another outfit that was strikingly similar to one Kennedy once wore. 
Now she's going for Nancy Reagan. 
Late on Friday, Trump stepped out in a long, bold red coat by New York-based designer Alice Roi and Gianvito Rossi shoes as she left Washington, D.C., for Mar-a-Lago. 
Almost immediately, outlets like Vogue saw the similarity between this red coat and the all-red coat ensemble Nancy Reagan wore to the 1981 inauguration, identical in color, shape and even length. 
Really, it's a comparison that's been staring us in the face all along. Although Trump has long been compared to Jackie Kennedy — with Donald Trump's former political adviser, Roger Stone, telling the Washington Post in 2015, "She would be the most glamorous first lady since Jackie Kennedy" — it's really Reagan who she's growing more and more similar to. 
Trump has often worn red as first lady, such as that red Givenchy dress she wore in early February, and red was famously Reagan's signature color, with Reagan actually given credit for red being synonymous with not only Republicans, but with power. 
"If you think of red as a power color, you track that back to Nancy Reagan," Glamour editor-in-chief Cindi Leive told the New York Times in 2016. 
Trump also prides herself on wearing expensive designer duds, from Givenchy to Ralph Lauren to Dior, and the same can be said for Reagan, who was also known for her lavishness, wearing Chanel and Dolce & Gabbana. Notably, that got her into a bit of trouble with the American public, who took offense to her taking free swag from her fashion friends. 
Just looking at their style alone, there are striking similarities, with Reagan and Trump both gravitating toward understated and rather conservative elegance, with a little glitz here and there.
Trump, like Reagan, is also a fan of having a few set favorite colors — beyond just red and silhouettes. 
There's beige with a belt:
There's simple black:
And there's white:
As Trump gets more and more comfortable in her White House role, it seems as though she's moving toward a style profile more similar to Reagan than anyone else. And with '80s style set for a comeback this year, according to outlets like W magazine, it's all starting to make sense, really.