United Kingdom plans to formally trigger Brexit on March 29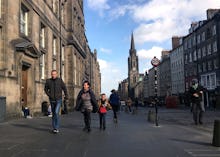 Nine months after formally voting to leave the European Union, the United Kingdom has officially set a date to make Brexit official.
A spokesperson for British Prime Minister Theresa May said Monday that the country's government plans to trigger Article 50 of the Lisbon Treaty on March 29 in order to formally begin the process of leaving the bloc of political and economic allies, according to the BBC.
If talks on the country's exit terms go smoothly, the BBC reported, the U.K. could be out as early as 2019.
The U.K. chose to leave the EU in a historic June 2016 vote that reflected the recent groundswell of nationalism in the region thanks to, in large part, an influx of refugees and asylum seekers fleeing war and political turmoil in the Middle East. The decision triggered the near-immediate resignation of the country's former Prime Minister, David Cameron, and sent stocks crashing.
In a statement, Brexit Secretary David Davis said that the U.K. will now enter into "the most important negotiation for this country for a generation."
"The government is clear in its aims," Davis said. "A deal that works for every nation and region of the U.K. and indeed for all of Europe — a new, positive partnership between the U.K. and our friends and allies in the European Union."