Jeff Jones, Uber's president, resigns: A quick guide to every departing exec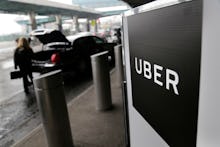 It's not a great time to work at Uber. A number of influential figures within Uber have left the company — that doesn't include CEO Travis Kalanick, who apparently has a "zero chance" of stepping down when the company brings in someone to help him "grow up."
The latest departures include Uber's president of ride sharing Jeff Jones and vice president of maps and business platform Brian McClendon. The two executives are leaving on contrasting terms. McClendon's departure is amicable and will occur at the end of March, the New York Times reported, so that he can move back to his home state of Kansas and "explore politics." 
Jones, who was poached from Target and is leaving Uber after less than a year, resigned due to the wave of conflict and controversy plaguing the company.
"It is now clear, however, that the beliefs and approach to leadership that have guided my career are inconsistent with what I saw and experienced at Uber, and I can no longer continue as president of the ride sharing business," Jones said in a statement to Recode.
According to Recode, Jones spent time meeting with drivers in an attempt to better understand their circumstances, communicating with them via email on what Uber's plans were. These efforts and a lack of improvement were not lost on the drivers — Ryan Price, executive director of the Independent Drivers Guild, a nonprofit labor organization that advocates for 50,000 ride-hail drivers in New York City, issued a statement following Jones' resignation:
It's frustrating that the sole executive charged with being driver-obsessed has left the company without making a single improvement to help drivers struggling to make a living. If Uber truly cares about "growing up" and listening to drivers, they should start by adding a tipping option. That's the No. 1 request from drivers. We hoped that our local push to mandate a tipping option would result in a national shift in Uber's tipping policy, but this news makes us all question if the company is really trying to "make Uber a truly great experience for drivers" as Jeff Jones said in his introductory email to our members.
A source told Recode that "Jeff does not like conflict" — making it difficult to work with Uber's current state. More than 200,000 users deleted their Uber accounts following Kalanick's continued involvement on Trump's advisory council and Uber's seeming undermining of the immigration ban protests at JFK. (Kalanick ultimately stepped down from Trump's advisory council.) And then in February, former Uber employee Susan Fowler wrote a viral blog post about the company's sexist culture, one that prompted other women to come forward with similarly nightmarish accounts. This was followed by a damning leaked video of Kalanick yelling at an Uber driver as well as a report from the New York Times that the company was using a program to deceive and evade authorities in cities where the service had faced resistance or was banned by legal officials.
Included in the string of high-profile departures at Uber was Amit Singhal, who joined Uber as senior vice president of engineering and reported to Kalanick. Singhal was asked to resign in February after it was discovered that he didn't disclose sexual harassment claims against him from his previous job at Google. Rounding out the mass exodus includes senior director of engineering at Uber's Advanced Technologies Center in Pittsburgh Raffi Krikorian, who announced his resignation in March in an email to employees, stating that he wanted to help with his family move to California. He also noted that he may return. Head of Uber's artificial intelligence labs Gary Marcus stepped down from his role four months after the unit was created to instead act as a special adviser to AI Labs. Uber's VP of product and growth Ed Baker announced in March that he was leaving the company to get involved in the public sector. He was with the company for more than three years.
As controversies and departures continue to rock the ride-sharing company, it's unclear how hopeful Uber's future is. Perhaps the incoming COO's leadership training for Kalanick will proliferate throughout the seemingly crumbling company.