'Sesame Street' finally introduces Julia, a muppet with autism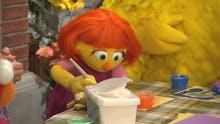 Sesame Street has a new muppet on the block.
On Sunday's 60 Minutes, Julia, a muppet with autism, was introduced as the newest addition to the decades-old children's television show's cast. After first appearing as Elmo and Abby's playmate in a 2015 digital storybook for children with autism, Julia will be featured as a regular character starting in April 2017, Vulture reported.
The fact that Julia is a girl seems significant, as some researchers believe girls with autism are under-diagnosed.
According to Vulture, Elmo and Abby will introduce Julia to Big Bird. At first, Julia will be hesitant to shake Big Bird's hand. But that's alright, because Elmo explains to Big Bird that Julia has autism and "sometimes it takes her a little longer to do things." The show will then highlight how this diversity of muppets, despite their differences, can play together in harmony.
Sesame Street's writers said that developing Julia's character had to be treated delicately considering all the different ways autism manifests itself.
"It's tricky because autism is not one thing, because it is different for every single person who has autism," Christine Ferraro, a writer for the show, said, according to Vulture. 
The team of writers reportedly worked with autism organizations, families and educators on how to accurately depict a child with autism, as well as how to appropriately explain the condition to young viewers. According to Vulture, this means, for example, that Julia's eyes needed to have an "intense look" but still be perceived as friendly and approachable. 
In other words, Sesame Street worked on emphasizing Julia's individual experience as a child with autism rather than generalize how all people might experience this condition.