NCAA March Madness game soured as Confederate flag is raised outside South Carolina arena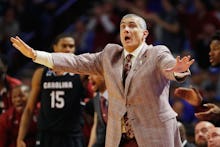 A group calling itself the South Carolina Secessionist Party erected a large Confederate flag next to the Bon Secours Wellness Arena in Greenville, South Carolina, on Sunday, where two games in the NCAA March Madness basketball tournament were being played.
The display — which was up from roughly 9:30 a.m. to 6 p.m. — added a sour note to the day's festivities, which included a stunning upset victory by the University of South Carolina Gamecocks over the Duke Blue Devils.
Demonstrators told reporters they were waving the flag to show off their heritage and to protest the state's failure to preserve the banner in a museum after it was removed from near the capitol building.
"It's a piece of our heritage," James Bessenger, chairman of the South Carolina Secessionist Party, told WYFF. "Twenty-five thousand South Carolinians died in defense of that flag, and 250,000 southerners."
The state of South Carolina recently emerged from a 14-year NCAA boycott due to the flag. Between 2001 and 2015, the collegiate sports organization had refused to hold championship or tournament games in the state because South Carolina still flew the Confederate flag over its state house grounds.
The flag — which indicates support for the pro-slavery faction of the U.S. Civil War — was taken down in June 2015 after a white supremacist terrorist named Dylann Roof shot and killed nine black parishioners at a black church in Charleston. 
Roof was photographed brandishing the Confederate flag and other similarly racist iconography. The NCAA responded to its removal by lifting the South Carolina boycott.
The protest Sunday unfolded in plain sight for many fans entering and exiting the arena, as secessionists waved it from the bed of a pickup truck parked on top of a nearby parking lot. 
"I felt like someone had punched me in the gut," Amy Stromberg, a fan visiting from out of town, told WYFF.
"It's unfortunate, but it's America," South Carolina head coach Frank Martin said of the display after his game, according to USA Today. "Our state believes in peace and harmony. That's why this event is being held in our state right now. Our state is progressive. Our state has incredible people that's about moving forward."
Ironically, Bon Secours was hosting the game in the first place because of another state's bigotry: The South Carolina vs. Duke game was originally scheduled to be played in North Carolina, according to SB Nation. But the NCAA opted out because of the state's HB2 law, which prohibits transgender people from using public restrooms that match their gender identity.