An old photo of Meryl Streep has turned into an amazing meme on Twitter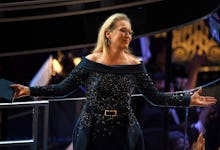 Once called "one of the most over-rated actresses" by President Donald Trump, Meryl Streep became an internet sensation over the weekend when a picture of her at the 2015 SAG Awards became the latest meme. 
Twitter was overcome with emotion when the meme started to catch on like wildfire. The image was taken during Debbie Reynolds' acceptance speech at the awards show that year. Streep was cheering on the legend, who died in December. 
The story behind the picture did not matter much when Twitter users began attaching call-and-response-type captions to the photo. 
Some users went with song lyrics.
Some used iconic TV show theme songs for the meme.
Others used the meme to continue complaining about Rihanna's Anti Grammy album of the year snub.
And who knew Streep is a big fan of rap?
Queen of acting, singing, stage and now memes. Streep does it all. 
Mic has ongoing Meryl Streep coverage. Please follow our main Meryl Streep hub here.