ABC keeps casting Bachelors for 'DWTS,' but it was a woman from the show who did the best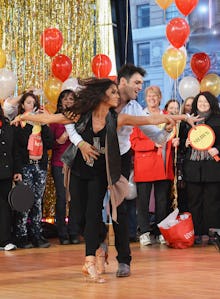 Who knew the biggest drama from the Bachelor franchise this season would actually come from Dancing With the Stars casting?
After it was announced that seemingly miserable fiancé Nick Viall would be the latest Bachelor to join ABC's ballroom dancing competition, former Bachelorette star Kaitlyn Bristowe had choice words for The Bachelor and producer Mike Fleiss. To hear Bristowe tell it, she was offered a spot on Dancing With the Stars two years ago, but Fleiss forced her to turn it down, Entertainment Tonight reports.
"I believe men and women should be afforded the same opportunities," Bristowe told Entertainment Tonight. "That has not been the case with The Bachelorettes and The Bachelors. I had an offer to do Dancing With The Stars and was told by [Bachelor creator] Mike [Fleiss] I could not. I was told by Mike that it is bad for his brand, and that he is sick of people wanting fame from his show."
Of the six Bachelor franchise alumni to appear on Dancing With the Stars, four have been former Bachelors — Viall, Chris Soules, Jake Pavelka and Sean Lowe — while only one has been a former Bachelorette. (That contestant, Trista Sutter, competed on the very first season of Dancing With the Stars and was the first eliminated.)
But one was neither Bachelor nor Bachelorette; rather, she was a contestant on one Bachelor season. That woman, Melissa Rycroft, turned the lemons of public shaming — when Bachelor Jason Mesnick picked her, then dumped her for the runner-up — into dancing lemonade. To this day, she is the most successful Bachelor franchise alum on Dancing With the Stars, coming in third in her own season and winning the show's one all-stars season.
It makes you wonder why Dancing With the Stars bothers with the boys at all.
In their respective seasons, Soules, Pavelka and Lowe came in fifth, seventh and sixth. That's right: Even judging by her worst performance, Rycroft still performed better than all the men — and got better on her second time at-bat with tougher competitors, too. She even beat Shawn Johnson, who won Rycroft's original season.
Beyond stats, Rycroft's runs were also dazzling to watch. She had the built-in redemption arc of a woman rejected, turning her embarrassment from the Bachelor into independent triumph. When she won the all-stars season, it was like her storyline — stretched over three seasons of TV on two different shows — finally hit its brilliant conclusion. For all the Bachelors, Dancing With the Stars was just a coda.
With this in mind, the Bachelor franchise's hesitance to let its female leads compete on Dancing With the Stars seems like a missed opportunity. Let JoJo Fletcher go on and have a delight! Give Rachel Lindsay her moment! This is a win-win for The Bachelor — and if Rycroft is any example, it could provide a bigger win for the series than men like Viall, Pavelka and others could ever deliver.
Mic has ongoing The Bachelor coverage. Follow our main The Bachelor hub here.