Misogynists brutally harass female animator online over 'Mass Effect: Andromeda' bugs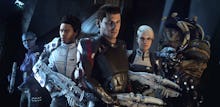 Some so-called fans of the upcoming epic sci-fi game Mass Effect: Andromeda responded to online complaints about its occasionally awkward facial animations by flooding a female animator's Twitter account with rape threats, insults and harassment.
Here's the kicker: BioWare, the company that developed Mass Effect: Andromeda, said she was "misidentified as a lead member of the [development team]" — in other words, she's not even responsible for what they're blaming her for.
But regardless of her involvement, this sexist behavior is just the latest example of the way misogynists in gaming are hasty to blame and harass women at every chance they get. It's a tale we've heard many times before.
Mass Effect: Andromeda fans viciously attack female animator online
It all started when the Ralph Retort — a right-wing, Gamergate-linked website run by Ethan Ralph — posted an article titled "A Cosplayer With No Video Game Experience Was the Lead Facial Animator for Mass Effect: Andromeda." It insinuates that Allie Rose-Marie Leost — the animator in question — performed sexual acts in exchange for employment at BioWare. It also demeans her for being a cosplayer.
Here are a few of the responses that article garnered on Twitter.
In the wake of Ralph's article, BioWare posted the statement on its Twitter account that said Leost was "misidentified" for her role in the development of Mass Effect: Andromeda. It's not clear exactly what her role in Mass Effect: Andromeda's development was — if any.
The confusion seems to be stemming from the fact that Leost's social media profiles previously said she was the lead animator on Mass Effect: Andromeda, but those descriptors are no longer there.
Regardless of her involvement on the project — a game which hundreds of BioWare employees worked on over many years — this kind of harassment is unacceptable, especially since any kind of awkward animation could be the result of a combination of unknowable factors.
Katherine Cross, who writes about games, summed up the issue pretty thoroughly on Twitter. "These people want to believe there's a feminist conspiracy of talentless women ruining video games," she wrote.
Mic has reached out to Electronic Arts for comment and will update with any response.
More gaming news and updates
Check out the latest from Mic, including our deep dive into how female Overwatch players are dealing with online harassment, a cool making-of video for Legend of Zelda: Breath of the Wild and an article about what a Bechdel test for gaming might look like.