Dave Chappelle explains why he left Comedy Central's 'Chappelle's Show'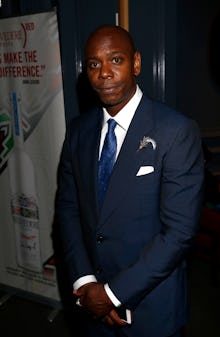 We're getting more from Dave Chappelle lately than ever before. 
Chappelle has two Netflix comedy stand-up specials set to hit the streaming service on Tuesday, March 21. And on Monday, Chappelle sat down with Gayle King of CBS This Morning and opened up about fame, his infamous exit and how he is fairing today. 
In the years since his abrupt exit from Comedy Central's Chappelle's Show, the comedian hasn't talked much about why he left the show. In the CBS This Morning interview, the notably private comedian reveals to King exactly why he walked away from Chappelle's Show at the peak of his career.
For Chappelle, success just didn't feel right, and he had to step away. "I was talkin' to a guy... He basically said to me that comedy is a reconciliation of paradox," Chappelle told King. "And I think that that was an irreconcilable moment for me. That I was in this very successful place, but the emotional content of it didn't feel anything like what I imagined success should feel like. It just didn't feel right."
Chappelle's Show ended in 2006, over ten years ago, after just three seasons. Chappelle said he does miss it — sort of: "But Chappelle's Show's like breakin' up with a girl and you still like her," he said. "But in your mind you're like, 'That bitch is crazy. I'm not goin' back.'" 
When the comedian left the show, he walked away from a $50 million deal; he also left the country. He went to South Africa to escape, and it was only recently that the comedian reemerged with a hosting slot on Saturday Night Live on November 12. 
The fame scared him, Chappelle admitted to King. "Fame is a horrifying concept when it's aimed at you, you know?" he said. "At the end of the day, it's so... you don't have that much control over it. You just try to conduct yourself as best you can."
"I found an altitude I was comfortable with. I found a way that — to do what I liked to do and avoid some of the parts of it that I was uncomfortable with," Chappelle said about his time away from the spotlight. 
While he was away, he regained his physical and mental strength. He admitted he's 40 pounds heavier now than he was when he was on the show. The time away strengthened his relationship with his children, and he found himself and the world. 
"I've been all over the country, touring all my life," he said. "But I never saw anything. Now I've seen everything. I could talk to people or I could... I had time to stop if someone said they liked me. It wasn't like I brushed past 'em like, 'I don't want to hear it.' I had time to stop like, 'You do?' You know what I mean? It's like — it was just, like, the way that I engaged the world was different."
Mic has ongoing Netflix coverage. Please follow our main Netflix hub here.