Dave Chappelle's Netflix release time: When to watch his newest stand up special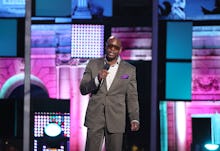 After a decade away from the stage, Dave Chappelle is back, and it's clear he hasn't changed his tune at all. Following numerous stand-up gigs throughout the country and his widely praised performance hosting Saturday Night Live, the comedian's new stand-up specials will be released on Netflix March 21 at 12 a.m. Eastern.
Available to stream on Netflix, the specials make up the first two of three promised programs by the controversial comedian. It was announced in late 2016 that Chappelle would release three specials, with two of them coming from his personal comedy vault. 
The comedian, who appeared in Robin Hood: Men in Tights, Buddies and You've Got Mail, abruptly departed Hollywood and moved to South Africa with his family following his 2006 season of his Comedy Central sketch series Chappelle's Show. 
In November 2016, Chappelle made his Saturday Night Live hosting debut on the the show's first episode following the election of President Donald Trump. He exhibited his widely-known blunt and biting humor, often peppered by use of the n-word, as well as his penchant for addressing controversial subjects such as politics and racism. 
Mic has ongoing Dave Chappelle coverage. Please follow our main Dave Chappelle hub here.