This chef is building a Korean food empire — with an unexpected twist.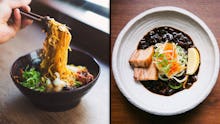 "All Asian foods had their moment, but not Korean food," Esther Choi says as her staff sets up for dinner service at her new Brooklyn restaurant Mokbar BK. "It took a really long time and now that it is happening, I'm so happy."
While Chinese food has been a staple in many New Yorkers' diets since the mid-twentieth century, as regional Asian cuisines rose in popularity —Thai, Japanese (first with sushi then with ramen) — in recent decades, Choi was still waiting for Korean food to have its moment. 
Growing up in New Jersey, Choi was raised on a steady diet of Korean staples — homemade kimchi, fresh fish, steamed vegetables grown in her grandmother's backyard served over rice or with soup — by her parents and grandparents, who all immigrated from South Korea. Choi always wanted to be a business owner (her parents managed a dry cleaner in her town) and eventually fell in love with the dream of opening a restaurant. 
In 2014, a small restaurant space opened in Chelsea Market, New York's trendy food hall born in a former Nabisco factory, now home to a giant Anthroplogie store, the Food Network headquarters and dozens of small food stalls and larger sit-down restaurants with established followings (Iron Chef's Masaharu Morimoto's Morimoto NYC is one) and Choi jumped on the opportunity to open up shop there, knowing that cooking Korean food was her calling. 
At the time, there "weren't that many ramen shops yet" as Choi recalls, though "now everybody has a ramen shop." Ramen was certainly rising in popularity (New York Times' Pete Wells dubbed early 2014 "ramen mania"), and New Yorkers and tourists alike flocked to the popular slurp spots in the city. Choi, who self-admittedly isn't the biggest ramen fan, knew curly noodles and fragrant broth would be her hook into luring the Chelsea Market masses, looking to hop on the next big food trend, into her food stall. 
"I thought, 'How about using ramen as a vehicle to introduce people to Korean food?'" Choi recalls, and the original Mokbar was born. 
In a restaurant specifically conceived for a small, busy space with a high concentration of food lovers, Choi created a menu using Korean techniques, flavors and ingredients to build flavorful bowls of ramen. The dishes weren't supposed to resemble the tonkatsu bowls one would find in a Tokyo ramen shop, but were rather a Korean riff on the increasingly popular Japanese noodle soup, which Choi would use to lure diners into exploring potentially unknown Korean flavors. 
"If you're not trying new [foods], you're not expanding your mind."
Working with Sun Noodle, or as Choi calls it, the Prada of Ramen, Choi created a special noodle for her ramen bowls, designed to just so perfectly stick to the broth and sop up the fermented, spicy, sweet and savory flavor combinations she'd be using. Her intuition worked, and hoards came in for MokBar's luscious ramen, many unaware they weren't eating the Japanese-style ramen they'd recently begun to see all over Instagram. 
"People come in thinking there's ramen and have no idea that this is Korean food," Choi said, "They eat it and they're like, 'Wow, what is that!?'" For diners who may shy away from kimchi, because the smell is unfamiliar, or are scared of a particular ingredient they cannot pronounce, Choi's ramen eases them in to a cuisine formerly too intimidating to enjoy, a delicious way of expanding cultural understanding through a mere sip of a broth with noodles. 
"If you're not trying new [foods], you're not expanding your mind," Choi said. "To explore other cultures, especially now in this day in age, is a must." And though a ticket to South Korea may not be in the future of New York's ramen slurpers, Choi believes expanding one's tastebuds is still a positive step. And while ramen may help ease some diners into Korean food, she attributes Korean food's rise in popularity to its healthfulness (tons of fermented ingredients!) and of course, its tastiness: Big sweet and savory flavors appeal to the American palate, some Americans just need to take the leap into tasting Korean cuisine to discover they love it. It's a barely radical act of trying kimchi that prevents people from becoming too "single-minded" as Choi puts it and being open to new experiences and cultures.
In her new Brooklyn restaurant, which opened in February 2017, Choi still has ramen on the menu — that's what she's known for! — but is expanding to more homestyle Korean cooking, like she grew up with. "My goal was always to do traditional Korean food, not Korean BBQ, but cooking like my grandma and mom used to do," she said. At Mokbar BK, she uses traditional flavors in a refined way, adding a micro-green for garnish that may be foreign to her grandmother, but appreciated in the upscale New York dining landscape. 
"When Koreans come in they say 'what is this dish' because it's not that traditional," Choi said of her cooking, "they're so confused." Choi says that Korean-Americans who grew up like she did may be most familiar with the dishes, as they bridge the two cultures only a certain subset of Korean-Americans may fully understand.  
Choi is most passionate about the new section of the menu at her Brooklyn restaurant called Jip Bap, which translates to house meal. "It's a replication of how I grew up eating, but a more elegant way with more technique," Choi said. Diners have a choice of a daily fish served in dashi soy broth, braised short rib, tofu steak and other proteins to go along with a set of banchan (homemade pickled vegetables), ssam (market greens), spicy gochujang paste, kimchi, soup and rice. 
The platter of food, is, in fact, a feast, and Choi said it resembles the type of meal she'd eat for dinner regularly growing up, though she presents her dishes a little differently. See: Micro-greens. Like the homemade kimchis at MokBar, the recipes are all based on family recipes but, as anyone who has every recreated a beloved aunt's signature dish may relate to, "obviously I have my own take on it," Choi says.
She wants her diners to experience a "very warm feeling" while eating Jip Bap, being comforted by the flavors and hands-on nature of making lettuce wraps and perhaps sharing proteins. Just a few weeks after launching Jip Bap, she says guests are "really loving it and embracing it" and she can sense the positive, comforting feelings she's creating with her cuisine. "That's what it's all about," Choi said, heading back into the kitchen to cook up a smorgasbord of Korean food.