Target's latest swimsuit campaign includes no photo retouching and plenty of stretch marks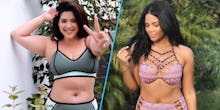 Target has done it once again. Following its uber-inclusive swimwear campaign last year and a denim campaign, which featured women of various different heights, shapes and sizes, Target is back with a #TargetSwim campaign that again embraces the kinds of women you don't often see selling swimsuits to the masses. 
The campaign, which is not retouched, features plus-size model and body-positive activist Denise Bidot, who proudly flaunts the stretch marks on her stomach. 
Notably, just earlier this month, Bidot flaunted her stretch marks in a Lane Bryant ad that appeared in the Sports Illustrated swimsuit issue, too. 
The ad also features dancer Megan Batoon:
...as well as pro skateboarder Lizzie Armanto:
...and TV host Kamie Crawford, who shows off her cellulite in the campaign as well:
"Target is committed to empowering women to feel confident in what they wear by offering a variety of style choices," Target spokesperson Jessica Carlson told Mic. "We loved working with these women because they embody confidence and inspire women to embrace and be proud of who they are, regardless of their size or shape. It was important to us to use photography that represented their true beauty without filters."
Although a campaign like this one may seem incredibly progressive today, it actually comes more than one year after Target Australia had perhaps the most inclusive swimwear campaign of our time, which starred not only women of different shapes and sizes but different ages as well. 
Still though, a company as massive as Target taking diversity this seriously feels like a win.