'Bates Motel' season 5, episode 5: Rihanna's Marion Crane mirrors plot line from 'Psycho'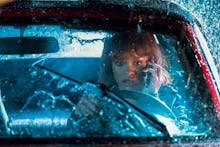 Rihanna officially checks into Bates Motel in episode five of season five.
The introduction of the singer is something that fans of the A&E series have been waiting for since the final season premiered in late February. And the introduction of her character didn't disappoint.
Bates Motel is a prequel to Alfred Hitchcock's 1960 thriller, Psycho, but the series hasn't exactly followed the classic film. Although the show has paid tribute to the movie on multiple occasions, it has introduced different characters and built up the backstory of Norman's relationship with his mother, Norma. However, episode five, titled "Dreams Die First," is the first episode that really brings viewers close to the infamous shower scene.
Introducing realtor secretary Marion Crane
Episode five takes us from White Pine Bay, Oregon, to Seattle, where Madeleine Loomis' husband, Sam, is with his mistress — Marion Crane. The two are enjoying a steamy hookup before Marion has to go to work. But the morning rendezvous is not enough for Marion. She wants marriage and a future with Sam. The only problem is that she doesn't know he's already married. That's slightly different from Psycho, where Sam is divorced.
But like the Psycho movie, the Bates Motel version of Marion works at a realtor's office. It's there that she happens to come across $400,000 in cash ($40,000 in the movie) from a client. Marion's boss asks her to deposit the money at the bank before the weekend, but when he refuses to give her a promotion or raise she decides to take off with the cold hard cash.
A special guest star in "Dreams Die First"
Marion flees Seattle (Arizona in the movie) and heads toward White Pine Bay. She doesn't get far though. While en route to see Sam, the realtor-secretary gets pulled over by a police officer. It's not any old police officer, though — it's executive producer Carlton Cuse. 
He pulls Marion over after seeing she has her jacket hanging out of her trunk. He fixes the jacket and lets her go on her way. Talk about a close call.
What's next for Marion Crane?
Unfortunately, that's where Marion's luck runs out. She calls Sam while she's on the road only to find that she can't go over to his place. In order not to let it slip that he's married, Sam lies and says he rents a cheap room from a guy who won't let him have guests over. Marion's desperate to talk about what she's done and tells him to meet her over at the Bates Motel. 
The episode concludes with Marion pulling up to the Bates Motel. Sam's not there though, having been confronted about his affair by Madeleine. And that's really not good for Marion — especially since Norman just figured out that he's been blacking out and living as Norma. He's not exactly someone you'd want to be alone with.
Mic has ongoing Bates Motel coverage. Check out our main Bates Motel hub here.