'Assassin's Creed Empire' Release Date Rumors: Swiss retailer posts Oct. 2017 launch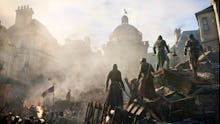 2016 was the first year without a new, proper Assassin's Creed game since 2008. Sure, we got the movie, but that wasn't any good. It's been too long since we've been able to meet every important historical figure in one time period, Forrest Gump style; just, you know, with more stabbing.
Anyway, we've heard rumblings about Assassin's Creed Empire, the supposed next game in the series. All indications point to a holiday 2017 release, but the game hasn't even been officially announced yet. However, a Swiss retailer may have dropped a hint regarding the game's release date.
Assassin's Creed Empire release date: World of Games hints at Oct. 2017 release
As reported by Wccftech, the Swiss retailer World of Games briefly had an Oct. 2017 release date listed on its website. It appears to have been changed, as Google Translate tells us the listing now says "fourth quarter 2017."
The most likely answer here is World of Games put a placeholder date on its store page based on previous Assassin's Creed releases. This often happens when games don't have confirmed release dates and retailers want to get their product pages ready. What's most interesting is that a retailer has a store page for a game that hasn't even been officially announced yet. 
That said, the existence of the game is an open secret, and that's putting it generously. It's set in ancient Egypt and skipped 2016 because Ubisoft wanted to slow down the release schedule and change things up. If it's coming out later this year, we can assume it'll be announced no later than in June at E3. 
More gaming news and updates
For more gaming news, check out the latest from Mic. Here's the latest on Middle-earth: Shadow of War, along with 15 photos that compare the Nintendo Switch to the Wii U, a beginner's guide to For Honor and our review of Horizon Zero Dawn.