What is the H-1B visa program? Here's how it works and why it matters.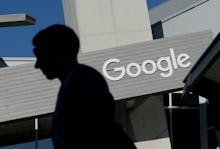 While President Donald Trump's immigration policy has thus far been largely focused on targeting undocumented residents, another major immigration program is being targeted: the H-1B visa, a temporary visa that allows U.S. companies to bring skilled workers to the United States.
Trump, who said on the campaign trail that he would "end forever the use of the H-1B as a cheap labor program," has targeted the visa through a move to suspend expedited processing for H-1B applications starting April 3.
After 60 Minutes aired a segment exposing some employers' abuse of the program to replace American workers with less-expensive foreign labor, Sen. Chuck Grassley (R-Iowa) took to Twitter to get Trump's attention and raise awareness for his newly introduced bill reforming the program.
But what is the H-1B visa exactly, and why should it be reformed? Here's what you need to know.
The H-1B visa
The H-1B visa, which was first established as part of the Immigration Act of 1990, was specifically intended to attract high-skilled talent to fill specialty professions in the United States.
Employers must petition the government for the visa on behalf of a potential foreign employee, and employees entering the United States on an H-1B visa must have a bachelor's degree or higher, or be able to demonstrate their expertise through a certification or specialized training. The visa is initially granted for three years but may be extended for a maximum of six years.
The specialized visa is primarily used by the tech industry. Data from U.S. Citizenship and Immigration Services, as cited by Investopedia, reported that 64.5% of all H-1B visas approved in 2014 were for computer-related professions. 
Though over 236,000 H-1B applications were filed for 2017, the U.S. government caps the number of new visas issued at just 65,000 each year. An additional 20,000 visas are reserved for those who have earned an advanced degree in the United States. 
Employees who are employed in the U.S. through an H-1B visa are expected to be compensated fairly for their work, and the government dictates that H-1B employees "must be paid at least the actual or prevailing wage for [their] application, whichever is higher."
There is a loophole, however, that allows employers to get away with lower salaries for foreign H-1B workers. The visa program was amended in 1998, the Atlantic notes, to allow employers to disregard the equal pay stipulation if an H-1B employee has a master's degree, or if they're paid at least $60,000 annually — far below the traditional Silicon Valley salary.
Controversy
The ability for employers to use the visa program's loophole to replace U.S. workers with cheaper foreign labor has caused the H-1B visa to come under scrutiny, buoyed by stories of high-profile companies, such as Disney, that have elected to replace American workers with foreign employees.
"It was a dastardly deed," former Rep. Bruce Morrison, one of the co-authors of the 1990 act that created the program, told the Atlantic about the 1998 amendment. "It licenses companies to displace American workers in a bill that purports to protect American workers."
The Silicon Valley tech companies who rely on H-1B labor, however, have been quick to support the program. Mark Zuckerberg, Bill Gates and other tech leaders founded FWD.us, an organization that pushes for immigration reform and makes it easier to attract foreign talent.
"The idea we should radically restrict pathways for highly skilled immigrants to come and stay here is — again — just wrong," FWD president Todd Shulte wrote in a blog post. "We need to fix our nation's badly broken immigration system so that more highly skilled immigrants can create jobs here in the United States.
"That means ... increasing the numbers of H-1B visas and reforming the program so that we don't run out of spots in the current yearly allotment for this critical program within only a few days every year."
Advocates of the H-1B visa say foreign labor is necessary to staff the expanding tech sector, which is projected to add about 488,500 new jobs through 2024, according to the Bureau of Labor Statistics. 
Critics have likened the visa program to "indentured servitude," as foreign employees' residence is directly tied to their employment, preventing them from negotiating for better wages. A report commissioned by Congress quoted in the Huffington Post noted H-1B workers "received lower wages, less senior job titles, smaller signing bonuses and smaller pay and compensation increases than would be typical for the work they actually did."
Proposed solutions
Because of its issues, reforming the H-1B visa is a cause that's currently being backed with bipartisan support. Though Indian Commerce Minister Nirmala Sitharaman reported on Monday that the U.S. had communicated to the Indian government there would be no "significant change" regarding the H-1B visas, several members of Congress are working to fix the program.
In addition to Grassley's bill, Republican Rep. Darrell Issa (R-Calif.) introduced a bill that would raise the exempt salary threshold from $60,000 to $100,000  and remove the stipulation allowing employers to deny equal pay to foreign workers holding a master's degree. Rep. Jason Chaffetz (R-Utah) has also introduced a bill that would eliminate per-country limitations on employment-based visas.
On the other side of the aisle, Rep. Zoe Logfren (D-Calif.), who represents Silicon Valley, recently introduced the High Skilled Integrity and Fairness Act of 2017. The proposed legislation would impose a wage requirement that varies by job and skill level, as well as set aside an allotted number of visas specifically for startups.