@POTUS account tweets misleading info after FBI confirms investigation of Russia ties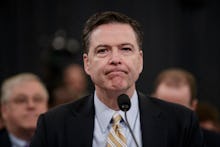 FBI Director James Comey wasn't yet done testifying about Russian meddling in the U.S. election when the Trump administration hit Twitter to try and minimize the damage.
In Monday's hearing, Comey confirmed that Trump and his campaign are under FBI investigation for possible collusion with Russia, which Comey said meddled in the election with the explicit goal of helping Trump get elected.
Yet the official @POTUS account, helmed by the president's director of social media, Dan Scavino Jr., incorrectly tweeted that Comey told Congress "that Russia did not influence electoral process."
The video tweeted out by the account shows House Intelligence Committee Chairman Devin Nunes (R-Calif.) asking whether the Russians physically tampered with votes in the 2016 election. Comey and National Security Agency Director Mike Rogers said there is no evidence that Russia physically tampered with votes cast in the election.
But at no point did they suggest Russia "did not influence" the election per the tweet. In fact, they said the opposite: that Russia did meddle in the election specifically to help get Trump elected.
"Mr. Putin would like people who like him," Comey said of Russian President Vladimir Putin's feeling toward Trump.
When the tweet was pointed out to Comey at the hearing, Comey knocked it down.
"We've offered no opinion, have no view, have no information on potential impact, cause it's never something that we looked at," Comey said.
Trump, who spent the hours leading up to the the hearing crafting a prebuttal from his personal account, @realDonaldTrump, has yet to personally tweet anything about Comey's comments.
Follow Mic's liveblog of Comey's ongoing testimony here.