Don't have a Netflix account? Here's how you can stream for free.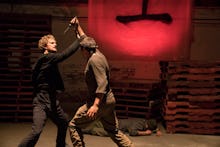 The first week of April will be very chill for many TV fans who have not yet been inducted into the Netflix community. As part of the Xfinity Watchathon Week, customers of Xfinity X1 cable service will be offered unlimited access to Netflix's entire United States catalog. 
The popular streaming service has gradually increased in power and popularity, going as far as to release numerous original series and even working on legendary actor and director Orson Welles' last, unfinished film The Other Side of the Wind.
Netflix even inspired some new language for diehard devotees, the most popular being the term "binge watching," which was declared the word of 2015 by Collins Word. 
Netflix joins more than 50 other networks participating in Xfinity Watchathon Week's offerings, including AMC, Comedy Central and Showtime, as well as: A&E, ABC, Animal Planet, BBC America, BET, Bravo, Cartoon Network, CBS, CMT, CNBC, CNN, Crackle, CW, Discovery, Disney Channel, Disney Junior, Disney XD, E!, ESPN, Food Network, Fox, Freeform, FX, FXX, FYI, GSN, HGTV, History, ID, IFC, Lifetime, Logo, MLB Network, MTV, National Geographic, NBC, OWN, Oxygen, PBS, Science, Spike, Sprout, Starz, Syfy, TBS, TLC, TNT, truTV, TV Land, USA, VH1, Viceland, We TV and WGN America.
And for those who are hopelessly devoted to Netflix, such as Zach Braff, who shared that he is single because of Netflix, here are the secrets to the best watching experience possible. 
Mic has ongoing Netflix coverage. Please follow our main Netflix hub here.