Sean Spicer: Former Trump campaign chair Paul Manafort's role in election "very limited"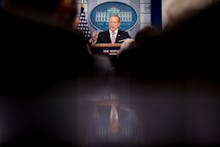 If you're in Sean Spicer's world Monday, and you're looking for top players in Donald Trump's presidential campaign, try checking under the bus.
The White House press secretary blithely dismissed two prominent figures, former Trump campaign chief Paul Manafort and adviser Roger Stone, while discussing the day's congressional hearings on potential Russian meddling in the 2016 campaign. 
"The greatest amount of interaction that they've had is had cease-and-desist letters sent to them," Spicer told reporters at the White House daily briefing.
Strikingly, Spicer referred to Manafort as someone who "played a very limited role for a very limited amount of time."
Manafort, a former business partner of Stone, was announced as a convention manager with the campaign in late March 2016, and later came out on top in what was described as a power struggle with Trump strategist Corey Lewandowski last spring. 
By August, Manafort had resigned from the campaign amid damaging reports about his involvement in Ukrainian politics. Earlier this year, Manafort denied any collusion with the Russians in an interview with the New York Times.
After Spicer referred to people he considered "hangers on" of the campaign, he was asked if he meant Stone, the longtime Trump strategist who parted with the campaign in August 2015, and Carter Page, an investment banker who provided Team Trump with some policy advice.
Spicer acknowledged he did mean them.
"Those people, the greatest amount of interaction they had with the campaign was the campaign apparently sending them a series of cease-and-desist letters," Spicer said. "I think when you read a lot of this activity about 'associates,' there is a fine line between people who want to be part of something that they never had an official role in and people who actually played a role in the campaign or transition."
Later, Spicer elaborated that Trump and Stone "had a long relationship going back years" but didn't think they had spoken recently.
Stone, who has remained a stalwart Trump defender, said in a phone interview last week that he has no relationship with Russia. But he did acknowledge having had an "innocuous" exchange with Guccifer 2.0, an online entity who took credit for hacking the Democratic National Committee. 
Stone elaborated on this admission on InfoWars Monday, writing: 
I am anxious to rebut allegations that I had any improper or nefarious contact with any agent of the Russia State based on facts not misleading and salacious headlines. Claims of Russian influence or collusion in the Trump Campaign by the Intelligence Community are backed up by ZERO evidence.
He also appeared on Sirius XM radio's Wilkow Majority to say that he felt he was being maligned in the hearings but was "suited up and ready for combat."
Spicer wasn't the only one downplaying the significance of players like Stone and Page: David Corn, Mother Jones Washington bureau chief, tweeted Monday that House Intelligence Committee Chairman Devin Nunes insisted he'd "never heard of" either Page or Stone.