'Super Mega Baseball 2' release could save summer 2017 for Xbox One-owning baseball fans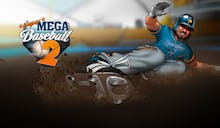 If you own an Xbox One and love baseball, there's one game that should be on your radar this summer: Super Mega Baseball 2.
Super Mega Baseball is coming back for a second season on PS4, Steam and Xbox One. Playstation fans may also dig the series, but it should be especially attractive to Xbox gamers.
Super Mega Baseball 2 release date: The best option for Xbox One?
Super Mega Baseball 2 is one of just two baseball games slated to be released for the console this year. The other is R.B.I. Baseball 2017, but that series hasn't been as critically acclaimed since it returned from a long hiatus dating back to the golden age of console gaming.
To be specific, R.B.I. Baseball 2015 received a Metacritic score of 46 and R.B.I. Baseball 2016 earned an even worse score of 34 — so it's understandable if fans aren't raring to go for R.B.I. Baseball 2017.
Super Mega Baseball was nearly at the other end of the spectrum. It received a Metacritic score of 80. Some might have been turned off by the cartoonish visuals, but once you have the controller in hand, the baseball mechanics are there on top of the charm.
We still don't know exactly when Super Mega Baseball 2 will launch, though it's slated to release sometime in summer 2017.
Super Mega Baseball 2: New customization options 
This year's game is bringing a new and expansive customization suite that ups the ante.
Here's a trailer from its developer, Metalhead Software:
The ability to customize league size could be a big one with franchise mode fans. That level of control is nearly impossible to find in any other sports video game on consoles.
There's still a lot we don't know, including how gameplay will change in Super Mega Baseball 2. Stay tuned for more information as it becomes available.
More sports gaming news and updates
Are you a sports gamer? Check out more content from Mic, including tips for leveling up your NBA 2K17 MyPlayer, playing quarterback in Madden 17, the latest information on MLB The Show 17 and the classic Nintendo sports games we want to see on the Switch.