4 takeaways from Day 1 of Neil Gorsuch confirmation hearings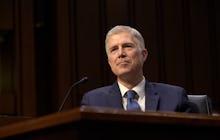 Neil Gorsuch — President Donald Trump's pick to fill the Supreme Court seat left vacant by the late Antonin Scalia — appeared before the the Senate Judiciary Committee Monday for the opening day of his confirmation hearings.
Republicans effusively praised Gorsuch as a "judge's judge" who would hand down judgements with "humility," while Democrats raised questions over his "originalist" judicial philosophy and his willingness to serve as an independent check on the Trump administration, and lambasted Republicans for refusing to consider Merrick Garland — former President Barack Obama's nominee.
Here's what happened on day one of Gorsuch's confirmation hearing:
Republicans and Democrats sparred over role of courts
While Republicans lauded Gorsuch as an "originalist" who would "apply the law," not make it, Democrats expressed concern that his judicial philosophy was really "an agenda."
"I find this originalist judicial philosophy to be really troubling," Sen. Dianne Feinstein said. "I firmly believe the U.S. constitution is a living document intended to evolve as our country evolves."
Other Senate Democrats questioned if Gorsuch would be a "justice for all Americans" and not a "surrogate" for the Trump administration.
"I have concerns," Sen. Al Franken said.
But Sen. Ted Cruz — who perhaps issued the day's most impassioned defense of Gorsuch — said that the election had been a choice between "activist" judges who would "put Scalia's legacy in great danger" and "originalist" judges like Gorsuch.
"The voters had a direct choice," Cruz said. "And in November the people spoke." 
Democrats went "high" on Gorsuch after Republicans went "low" on Garland
During the 2016 campaign, Democrats made Michelle Obama's rallying cry, "When they go low, we go high," their unofficial motto.
On Monday, they attempted to apply that maxim to the confirmation hearing. They sharply criticized the GOP for failing to consider Obama's Supreme Court pick, Merrick Garland, but said that — unlike Republicans — they would give Gorsuch fair consideration.
"Your nomination is part of a Republican strategy to capture the judicial branch of our government," said Sen. Dick Durbin. "Despite all of this, you are entitled to be judged on merits."
Sen. Michael Bennet, a Colorado Democrat, said while he was upset Garland was not considered, "Two wrongs never make a right," and said Democrats should not obstruct Gorsuch the way Republicans obstructed Garland.
Trump loomed large over hearings
President Donald Trump — and particularly his attacks on the U.S. judiciary — loomed large over the first day of his nominee's confirmation hearing. 
Republicans continually praised Gorsuch and urged Democrats to consider the judge based on his "merits."
But Democrats countered they could not evaluate Gorsuch "in a cocoon" outside the context of the Trump presidency, which they say makes it especially important to have a strong, independent check on the administration's power.
Sen. Al Franken worried Gorsuch could be part of enacting the administration's stated goal of "deconstructing the administrative state," and Sen. Richard Blumenthal called on Gorsuch to publicly rebuke Trump's "demeaning" attacks on federal judges because they undermine the judiciary.
The Supreme Court confirmation hearing was occurring at the same time as a House Intelligence Committee hearing during which FBI Director James Comey debunked Trump's claim that his predecessor had wiretapped him and revealed the FBI is actively investigating Trump and his campaign aides' potential ties to Russian interference in the 2016 race.
Because of this, Blumenthal noted that it was not "idle speculation" to suggest the Supreme Court might be asked to enforce a subpoena against Trump and called for judicial independence.
Gorsuch struck an amiable, humble tone
When it was finally his turn to talk, a mild-mannered Gorsuch said he was "honored and humbled" to be before the Senate Judiciary Committee and extolled the values of consensus — even as he echoed the Republican's condemnation of activist judges who "legislate" from the bench.
Justices do not pass judgement on the people before them, Gorsuch said, but on the law.
"A good judge can promise no more than that, and a good judge should guarantee no less," Gorsuch said.