How to rent a home you love for as little money as possible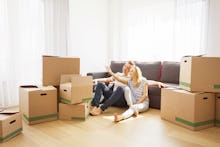 Trying to squeeze more out of your hard-earned paycheck? The best place to slash costs might be your pad: Housing is typically the highest expenditure for most households, according to the Bureau of Labor Statistics, far outstripping expenses like transportation and food. And that's not even counting utilities. 
But finding an affordable home you're happy with is tough: One 2015 study in the U.K. found that nearly two-thirds of respondents said that moving was more stressful than breakups, divorce and even starting a new job. 
Shopping around for a rental apartment or house isn't like buying other products: You can't hoard coupons. You can't look for "sales." Or can you?
The truth is there are ways to save money and get a great deal if you're thinking of renting a home. Here is a step-by-step guide to renting like a pro.
1. Be selective about location.
Some places are a lot more expensive than others. "Nationally we're seeing rents only climb 1.5%, which is a pretty stark slowdown in the appreciation of rents, and that's good news," said Svenja Gudell, the chief economist at Zillow. "But if you're in markets like Seattle, San Francisco, Sacramento you're still seeing very great appreciation."
Where you land makes a difference. A Forbes study found that low wages and vacancy rates in Miami, for example, mean rent gobbles up 36% of income on average. But in midwestern cities, like St. Louis or Indianapolis, that figure's closer to only 17%.
Cities versus suburbs make a big difference, too. Living in Atlanta suburbs as opposed to the city, for instance, can save you almost $13,000 a year. Ditching New York City for the 'burbs will save you even more, an eye-popping $71,000.
Limited to a city because of work? Be picky about neighborhoods. In a ranking of New York City areas, Nate Silver identifies 12 big factors to consider when hunting for a 'hood, including nightlife. Being flexible means savings.
"Parks, restaurants and shops, or grocery stores all make the place more desirable and you're going to pay for that," Gudell said. "If that's not important to you, it's going to be baked into the rental price." Don't have kids planned any time soon? Choose a 'hood with lower school quality. Not a partier? Skip places with tons of restaurants and bars.
Finally, consider commute length: Cheap rent is little consolation if you basically live in your car. Use a commute-cost calculator and read up on local public transit to decide how close to work to be. 
2. Perfect your timing — and negotiate rent.
Timing is everything, starting with your lease: "Locking a two year lease in is a great idea right now," Gudell said. "Even if rents are falling nationally, usually that doesn't translate to lower renewal costs, so there's not much of a downside" to negotiating a longer lease. 
Season is another factor. Summertime is the most popular time to move, which means options. But deal-seekers want to move in winter, when landlords have a harder time finding tenants and may offer incentives. "Renters have more leverage now than they had last year. We're starting to see a lot more inventory come onto the market," Gudell said. Unless you're looking at a very affordable apartment, she said, "you should definitely be negotiating for a month free."
If you can bear it, you can also save money by moving during the holidays. In Los Angeles, rents fall more than 1.5% in December and January according RentHop. Same goes for New York, Houston, Philadelphia, and Miami. On the flip side, rents bottom out in March and April in handful of cities, including Chicago, Phoenix, and Atlanta. Brave enough to attempt a Christmas move? Call ahead to ensure your heat will be on in time.
There's a similar tradeoff to apartment hunting at the start of the month versus the end. Earlier on, you'll almost certainly have more options, but later in the month is when landlords get anxious about finding a tenant. So that's when you're likely to get a bargain.
When occupancy is down, you may have luck negotiating rent with your landlord. Yup — you can bargain. Here's Mic's guide. The gist? Sweeten the pot by agreeing to a longer termination notice, so they have more time to replace you, or by adding conditions to the lease like a no-pet or no-smoking clause. 
3. Figure out whom you'll live with.
If prices give you sticker shock, get a roommate. "Splitting a two bedroom saves about $1,000 a month on average," Trulia rental expert Yardley Ip Pohl said. "One of the key things is just clearly establishing rules from the beginning." After all, saving a few bucks might not be worth living with that cash-strapped aspiring drummer whose jam sessions keep you up all night. Be selective if you use a roommate placement service or app. 
"Spend time building the trust with one another," Ip said. "Establish acceptable modes of conversation, 'should it be text or email,' since some people are very sensitive to that." And talk through potential conflicts: How you'll split the bills, whether significant others can stay over, even politics. 
A smart move is to draft a roommate agreement, which can range from the general to the hyper-specific. Splitting bills can be a pain, but there are a lot of tools like SplitWise or HomeSlice that can help. If a prospective roommate seems messy, consider an app like Chorma, sort of like a virtual chore-wheel.  
4. Know when to pounce. Or peace out.
Apartment hunting is fun, but beware the broker and internet stalk before meeting anyone for a viewing. "To get a real estate license, you don't need a high school education and it's only about 30-60 hours of training," real estate attorney Doug Miller said. "It doesn't prepare you to handle the conflicts of interest that can exist."
Even brokers recommend working through referrals. Vet strangers on sites like Yelp, or check other listings for duplicates, a red-flag. Don't tolerate the bait-and-switch, a common broker tactic.
To avoid a broker fee, rent directly from the property management company, which is easier in the age of rental listing websites. But remember it's not quite the perfect panacea it's sometimes made out to be: Even if you do the leg work of finding the managing company behind a given listing, those companies will likely have charges of their own, like a move-in fee. 
Finally, when you're actually in the pad, bust out a checklist so you don't forget to check key details — like whether you get a cell signal or if faucets work.
"Start with the conditions of the walls and the floors," Ip said. "You need to make sure they're what you expect. If there are heavy stains you need to request paint."
5. Read up on local renter's laws.
According to New York public advocate Letitia James, when young people move to a city they forget to read up on local laws, which leaves them vulnerable.
That is a big problem in gentrifying neighborhoods, where renters get duped by marketing: "There's a development in Brooklyn in East Flatbush where they changed the name, they painted a couple of apartments and then they raised the rent threefold," James said. "They took pictures of millennials and did a big advertising campaign and duped young people into renting apartments where there was a rent strike."
Check rent-rolls to learn what previous tenants paid and whether the apartment underwent major renovations since they left. Municipalities like New York City make this information public, though you have to make a request. Santa Monica in Los Angeles also publishes the maximum allowable rent on a given building. And Washington, D.C., has a special Tenant's Advocate office.
Unfortunately, not many places have extensive tenant protections: Only four states plus Washington have rent control, but you can still access rent data in other ways. Apartment sites publish reports showing median rent by neighborhood, which can give you a ballpark of what's fair. 
Also look into a "warranty of habitability," required in most jurisdictions, though conditions vary. This warranty requires landlords to obey certain rules or you won't owe rent. In colder cities, it might mean providing heat, for example.
Lastly, create paper trail in case something goes wrong and you need to go to court: Put "rent for" and the address in the memo line of each rent check.
6. Don't sleep through the signing.   
"Once you've found a place that you love and want to secure it, the application process is harder than you think it is. You want to be over-prepared," Ip said. "Bring a packet with you when you go to look at open houses during your search." Good documents to have on hand? Pay stubs, your tax return, salary letter, and a copy of your I.D.
It's also a good idea to bring a letter of recommendation from a previous landlord. If you're a first-time renter, Ip recommended asking an old roommate or your manager for a letter, instead. The most important requirement for landlords, Ip said, is going to be the credit check, because "it's difficult for a landlord to understand [your] payment behavior without it."
Bad credit? Be upfront: "Being able to admit ... it gives you an opportunity to talk about what steps you've taken to improve that credit score," Ip said.
If you get rejected, try getting a guarantor. Though — as with co-signing a loan — there can be big risks for the outside party if you don't make payments. Increasing your deposit or paying an extra month's rent can sweeten the deal if your landlord worries you're a risk. 
Lastly, read the lease carefully for specific stipulations regarding issues like pets or smoking in the apartment. Breaking these provisions could give the landlord the right to take you to evictions court.
A key clause to watch for in a lease? Don't waive your rights to go to court. Public advocate James said landlords often slide in such provisions that waive rights to file actions in court — like if you want to complain about a lack of heat in the wintertime. Any such lease provisions should be a deal-breaker for you.
7. Learn to "adult" as a tenant.
Beyond obeying your lease, the best way to be a good tenant is paying your rent on time: not rocket science. But you should also get renter's insurance, which — along with health insurance — is one of the few kinds of insurance young people are most likely to need, according many financial planners.
Renter's insurance is not just about protecting belongings, but also about liability protection, Michael Rudoy, co-founder of the insurance startup Jetty, said.
"Humans all make mistakes," Rudoy said. "So if, God forbid, you flood the bathroom and it ruins your neighbor's apartment, that could be a potentially net-worth ruining expense."
In fact, renter's insurance is increasingly becoming required by landlords, who don't want to be on the hook if, say, one of your friends comes over and gets injured. Luckily, it need not break the bank: The average policy in most states costs less than $20 per month. 
Finally, as you enjoy life in your new pad, be sure to keep your landlord posted (in writing) on any changes to the apartment, or any updates you'd like to make to the lease. The better that relationship is, the easier life will be.
Sign up for The Payoff — your weekly crash course on how to live your best financial life. Additionally, for all your burning money questions, check out Mic's credit, savings, career, investing and health care hubs for more information — that pays off.