When and where to watch the 'Flash' and 'Supergirl' musical crossover episode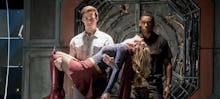 Two of the CW's biggest superheroes are joining forces. The Flash and Supergirl will crossover for an epic musical episode, featuring Glee alum Darren Criss.
When and where to watch the crossover episode
The big musical special is set to begin Monday on the CW during Supergirl's normal 8 p.m. Eastern time slot. However, as Entertainment Weekly noted, most of the drama will take place during the Tuesday episode of The Flash. Like Supergirl, The Flash airs on the CW at 8 p.m. Eastern.
For those without access to a television, the episodes will be available to stream on the CW website the next day. Login for your cable provider is required for viewing.
What will happen on Supergirl and The Flash?
According to a synopsis from TV Guide, Monday's episode of Supergirl, titled "Star-Crossed," will introduce a new villain — and it's not the Music Meister. Supergirl will have to juggle dealing with this mysterious new villain, all while fighting off the Music Meister, played by Criss. Unfortunately it won't go too well. She'll end up unconscious by the end of episode 16, forcing her friends to bring her to Central City. 
The drama will continue into The Flash on Tuesday. In episode 17 of season three, titled "Duet," Barry's team will be enlisted to help Supergirl after she's "whammied by the Music Meister." But the Music Meister is not done wreaking havoc on the heroes. Barry will similarly end up in a coma and wake up in an alternate "musical" reality with Supergirl. The two of them will be without their powers and will have to "follow the script" in order to escape.
Mic has ongoing The Flash coverage. Check out our main The Flash hub here.