'Power Rangers' Gay Character: Here's how Becky G's character addresses her sexuality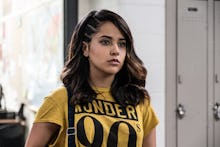 The Power Rangers movie will do something the original live-action series, and no superhero film, has done before it: feature the first LGBTQ superhero. 
The news comes from Power Rangers director Dean Israelite, who spoke with the Hollywood Reporter in an interview published Monday about the Yellow Ranger, Trini, played by Becky G in the new movie. Israelite explains the character addresses her sexuality while still "questioning a lot about who she is."
"She hasn't fully figured it out yet," Israelite tells the Hollywood Reporter. "I think what's great about that scene and what that scene propels for the rest of the movie is, 'That's OK.' The movie is saying, 'That's OK,' and all of the kids have to own who they are and find their tribe." 
The news of Trini's sexuality was quickly praised on the Twitterverse. 
The scene plays out between Trini and another Ranger, who are trying to bond. In the film, the characters need to form a closer relationship not just for their own sake, but so they're able to "morph" into the eponymous Ranger suits. The "morphing" is especially prescient because of the new threat to humanity presented by Rita Repulsa, played by Elizabeth Banks — without their Ranger suits, they can't defeat her. When the Ranger assumes Trini is having boyfriend issues, she clarifies she has "girlfriend problems." It's also worth noting here that the character doesn't specifically say that she's lesbian in the film — it's entirely possible that Trini is bisexual.  
It's an understated scene, but an important one. Consider not just how the LGBTQ community continues to be underrepresented in the media, but the context for the Power Rangers franchise. David Yost, who played the original Blue Ranger, was openly gay during the '90s series, but left the show after dealing with harassment from members of the crew. Yost praised the new film for its inclusiveness.  
"They really stepped up to the plate," Yost told the Hollywood Reporter. "I think so many people in the LGBTQI community are going to be excited to see that representation."
Power Rangers arrives in theaters March 24. Check out the trailer below: 
Mic has ongoing movies coverage. Please follow our main movies hub here.