Trump supporters deck out Fearless Girl statue in MAGA gear, Pepe the Frog sign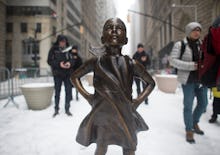 This is why we can't have nice things. Exhibit B: Just over a week after a "finance broseph" made a spectacle of humping Wall Street's Fearless Girl statue, some Donald Trump supporters stopped by to outfit her in MAGA gear. Just what she needs. 
A Gothamist tipster reported that two men descended upon the statue early Monday morning, shortly after midnight. They accessorized her with a red Make America Great Again hat, an American flag cape and some opinion-espousing signs. One read "VETS B4 ILLEGALS," while the other featured Pepe the Frog, a meme that the Anti-Defamation League classifies as a hate symbol, tipping his shades alongside the Trump name. 
The men were also wearing MAGA caps, suggestive of pro-Trump political leanings.
Fearless Girl appeared on Wall Street on the eve of the March 8 Women's Strike, stationed directly across from the district's iconic Charging Bull statue. She is intended to represent the importance of women's presence in the financial sector, although she has been criticized as a symbol of corporate feminism. 
In any case, the last hat she wore was a pink pussy hat — arguably a symbol of consumerist feminism, but certainly, a symbol attached to a movement that disagrees with the president, pretty much point for point, on what makes America great.
No lasting damage was done to Fearless Girl, though: As of 4:48 p.m. on Monday, Mic can confirm that she is back to her unadorned bronze self.
March 20, 2017, 5:13 p.m.: This story has been updated.