3 stories from Russian state media you'll probably be hearing from Trump soon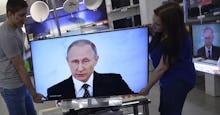 President Donald Trump's shocking claim that Barack Obama enlisted the help of British spy agency Government Communications Headquarters to "wiretap" Trump Tower did not help to distract from the president's possible connections to Russia. 
According to Politico, the claim originated on Russian state media, found its way to Breitbart and Infowars, then to now-former Fox News contributor Andrew Napolitano, where it was essentially broadcast directly into Trump's mind. Now that we know the potential influence Russian media may have on Trump, what other subjects might the president tweet about soon?
One need only pay a brief visit to English-language, Russian state-run websites, including RT and Sputnik News, to find a whole host of new ideas that Trump might find interesting. 
The Obama-led Rebellion
The good people at Sputnik wrote that "spring has historically been associated with riots, revolutions and military offensives and therefore one should expect more political skulduggery and bedlam in Western cities, particularly in the United States."
Sputnik also informed readers that, while Barack Obama could have moved anywhere, he chose the "disproportionately white Kalorama neighborhood in Washington, D.C." This is the location from which he will "lead a promised rebellion of oppressed minorities against his duly elected successor." 
George Soros is the funding source
Sputnik also reported that this rebellion might be delayed until liberal billionaire George Soros "can arrange a unanimous Wall Street consensus to short the markets." Otherwise, you see, there is too much money being made on Wall Street for the anti-Trump violence to start yet.
Obama needs Soros' help, because, per Sputnik, "The poor man's revolution, with very rare exceptions, is always financed by the rich." Obama is certainly not as rich as Soros, but he is clearly not a "poor man."
The "shadow government" is behind the operation
Once again, according to Russian state media: Trump may be able to defund the State Department, but it will be harder for him to take on the Pentagon and intelligence communities because they form a "shadow government" that controls billions of dollars. 
As reported by Sputnik: 
According to then Defense Secretary Donald Rumsfeld, the Pentagon could not track $2.3 trillion in transactions in 2001... within 24 hours [after this money was discovered missing], the Sept 11 terror attacks occurred.
The implication is that 9/11 was designed to divert attention from pilfered money that went into accounts that could, according to Russian media, "fund several U.S. armies for the remainder of the Trump presidency; or fund trolls, fake news and agitprop specialists over the next 100 years." 
Saudi Arabia controls the "shadow government"
This "global mercenary enterprise" is also funded by "heroin revenues from Afghanistan," which can go to "sustain the foot soldiers of America's permanent social justice movement" — because of course it can. 
One thing you, dear reader, may be unaware of is that all of this is controlled by the Saudis, "who have a greater say in how U.S. foreign policy and wars are waged than the current president of the United States himself. "
Yes, my friends; if you dig deep in Russian media, you will find a lot of complicated and interesting conspiracy theories that may, perhaps one day soon, find their way to Trump's Twitter account. 
But you actually don't have to dig deeply at all — every quote in this article comes from just a single post on Sputnik.