22 recipes to cook in April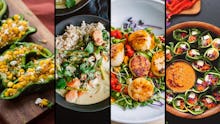 Spring is in the air — and in your supermarket.
Or better yet, the farmers market. More produce, from artichokes to watercress, is in season, and it's time to start cooking up a green storm. Get your fill of chlorophyll and spring into seasonal cooking with these fresh, healthy-enough recipes. 
Cajun shrimp kale Caesar salad
Spicy, creamy and even a little healthy, this quick-to-make salad can easily become your new springtime dinner staple. Eat it outside for optimum enjoyment! Get the recipe here. 
Asparagus tart with balsamic reduction
Does anything say spring more than greens backed into a flaky pastry? No, nothing does. Get the recipe here. 
Mango avocado soba noodles with sesame salmon poke
This chilled dish cooly combines two major food trends into one flavorful, nutritious bowl. Get the recipe here. 
Broccoli cheese tortellini with fried lemon
Indulgent enough to make you excited about cooking dinner, and fresh and just veggie-packed enough to feel like a spring dish, you really can't go wrong with this dressed up cheese tortellini. Get the recipe here. 
Magic green sauce
Add some color to your spring cooking with this fresh, homemade sauce you can slather on pretty much anything —or use as a dip! Get the recipe here. 
Thai noodle salad with peanut dressing
Salad season is on, and noodle salad totally counts. Get the recipe here. 
Rainbow farro salad with blood orange vinaigrette
Celebrate the colorful bounty of April with this vegan salad that's just so perfect to pack for your first picnic of the season. Get the recipe here. 
Broccoli with garlic sauce, takeout style
Step away from the takeout menu and learn how to make this beloved American-Chinese dish yourself. Get the recipe here. 
Italian orzo spinach soup
For those rainy April days when you just want to cuddle up inside and sip something comforting, this light, veggie packed soup exists. Get the recipe here. 
Green shakshuka
Baking these eggs in leafy greens (your choice) rather than the traditional Israeli tomato and pepper sauce adds some legit springiness to this brunch dish. Get the recipe here. 
White bean quinoa risotto with brassicas 
Lighten up a heavy winter dish with this vegetarian recipe that creates some serious springtime comfort food. Get the recipe here. 
Sweet corn sorghum stuffed peppers
The most basic of veggies are suddenly fun again with this fancy-looking at-home recipe you can feast on in front of the TV or serve at a party. Get the recipe here.
Thai green curry with spring vegetables
Load all the veggies in this spicy yet refreshing curry pot. Get the recipe here. 
Collard green spring rolls + sunbutter dipping sauce
Master these collard-wrapped spring rolls and you can use the technique to play around with ingredients to stuff in your new favorite wrap style. Get the recipe here. 
Sheet pan chili orange salmon
Sweet, spicy and packed with all the health benefits fresh salmon offers, this sheet pan supper is a quick meal to make on a nice day when you just want to be outdoors. Get the recipe here. 
Broiled miso cod with vegetables
Another one of those oh-so-trendy single pan meals, this cod is worthy of a seriously great Japanese restaurant. Get the recipe here. 
Steak and miso butter lobster sandwich
Surf and turf isn't just for restaurants. This decadent sandwich is everything you can dream of, between bread, on a breezy spring day. Get the recipe here. 
Chicken and spring vegetable lasagna
Lasagna season isn't over yet. Broccoli florets, peas and spinach unite to make this springtime baked pasta dish. Get the recipe here. 
Berry with arugula and prosciutto pizza
Homemade gourmet pizza? Yesssss. You can't get this delivered from your favorite pizza chain. Get the recipe here. 
Scallop and pepper antipasti salad
This paleo-friendly recipe is packed with flavor, and protein, and would make a great main course, any night of the week. Get the recipe here. 
Mint coconut chocolate cake
Fresh, rich and spring green, this cake is the ideal way to celebrate the first blooms. Get the recipe here. 
Vanilla cake with fresh strawberry frosting
You made it to the fourth month of 2017. You deserve this. Get the recipe here.