Bisexual icon Li Shang may not be in live-action 'Mulan.' Here's why he needs to be.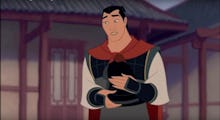 Captain Li Shang may not be making a man out of anyone. 
This week, director Niki Caro divulged that the live-action adaption of Mulan wouldn't feature any of the animated version's original songs. And while fans of the original are (rightly) upset over the loss of "Reflection" and "I'll Make a Man Out of You," another glaring alteration made the rounds online. 
According to a casting call sheet circulating online, the titular hero won't fall for Captain Li Shang. She'll fall instead for Chen Honghui, a cocky soldier who sees Mulan as a rival until he discovers her gender — then sees her as a love interest.  
If the casting call is real, then Disney stands to lose one of its most overtly queer characters and storylines. In the animated original, Shang and Mulan forge their initial romance while Mulan is dressed as "Ping," a male-presenting disguise Mulan puts on in order to fight in the Chinese army so that her aging father won't have to go to battle because he's the only male in the family. 
Mulan and Shang become close and Shang begins to admire Mulan for her thinking skills. That mutual admiration grows when Mulan saves Shang's life during an avalanche that Mulan meant to bury their enemies, the Huns. Directly after she saves Shang's life, her colleagues discover her gender, and though she should be executed Shang spares her life. 
In the film's climax, when the Emperor's councilman Chi Fu tries to reprimand Mulan for frauding the Chinese people, Shang hops to her defense and tells him and the Emperor that Mulan is responsible for saving the Chinese empire. 
Shang's narrative in the film proves that he grew to love Mulan not because of her gender or how she looked, but because he fell in love with her as a person. There have been plenty of speculation about Shang, and news that he may not appear in the live-action update raised eyebrows. 
Though bisexual people comprise the slight majority in the LBGT community, and a larger share of queer youth, bisexual people still deal with extreme erasure from mainstream narratives. Earlier in March, Oscar-winning writer and director Dustin Lance Black sparred with bisexual activists on Twitter who claimed the "B" was missing from his LGBT-themed ABC miniseries When We Rise. 
Some bisexual people are still trying to confront the myth that their sexuality is real and they exist. 
Given the severe lack of bisexual representation on screen, omitting Li Shang from the Mulan narrative doesn't just change the warrior's love interest, it continues a trend of bisexual neglect. 
News that Shang may not appear in the Mulan narrative, oddly, comes around the same time that director Bill Condon declared that mega-hit Beauty and the Beast would feature an "exclusively gay moment" featuring Gaston's lackey LeFou. 
The moment courted controversy — and headlines — for the film, and the film was banned in theaters everywhere from Alabama to Malaysia. The moment, a two-second dance invitation, was overhyped, but the film did make several allusions to LeFou's sexuality and his affections for narcissistic uber-hunk Gaston.
While Disney stood by the moment and refused to cut it for Malaysian censors, Li Shang's storyline may not get the same vindication. After a year like 2016, in which people of color and queer people were front and center in mainstream films like Hidden Figures, Rogue One: A Star Wars Story and best picture winner Moonlight, giving Shang the axe from Mulan feels like a huge step backward.