Donald Trump's daughter Ivanka Trump gets bigger role, White House office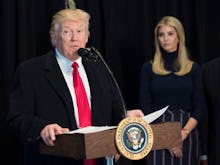 President Donald Trump has elevated his daughter, fashion designer Ivanka Trump, to a senior position in his administration, and she is in the process of obtaining a security clearance and office in the West Wing of the White House, Politico reported Monday.
The decision to expand her role will more or less make her a full-time member of the president's senior management team, "except she is not being sworn in, will hold no official position and is not pocketing a salary," Politico reported, citing her attorney, Jamie Gorelick, who added that Ivanka Trump's role would not be limited to women's issues and would instead encompass being the president's "eyes and ears" as well as providing more general advice.
It's yet more uncharted ethical ground for an administration already wracked with conflicts-of-interest concerns. Ivanka Trump's husband, Jared Kushner, raised concerns of nepotism when he was appointed as a senior adviser, though the Department of Justice decided anti-nepotism laws do not apply to the president's personal staff. Moreover, not becoming an official employee raises the specter she might not follow the same ethics rules as other White House staff, though she would have a near-identical role.
According to Politico, Ivanka Trump says she will "voluntarily follow all of the ethics rules placed on government employees." But former Barack Obama administration ethics counsel Norm Eisen told Politico that "the better thing to do would be to concede she is subject to the rules. It would create some outside accountability because if she can voluntarily subject herself to the rules, she can voluntarily un-subject herself to the rules."
Gorelick told Politico that Trump had divested from her "common stock, tech investments [and] investment funds," but would not be divesting from her fashion brand, which would instead be managed by a trust.
A separate New York Times report, however, she would maintain considerable control of her brand.
The appointment comes following at least one ethics controversy involving her brand and the White House, like the time senior adviser Kellyanne Conway touted Ivanka Trump's wares during a Fox & Friends segment. While the Office of Government Ethics subsequently asked the administration to discipline Conway, it did not, while sales of the brand surged online.