Multiple far-right news outlets are under FBI investigation for possible links to Russia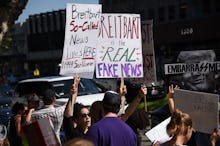 The FBI has launched an investigation into several right-wing news outlets, such as Breitbart, Infowars and the Russian state-sponsored RT and Sputnik, that were potentially linked to Russian efforts to sway the 2016 presidential election.
According to McClatchy, FBI investigators are specifically looking into evidence that suggests Russia "strategically timed" bots to post pro-Trump stories on Facebook and Twitter, which included links to the far-right news sites.
Unsurprisingly, a source told McClatchy that many of the bots' posts were "false or mixed fact and fiction."
But while outlets like Breitbart and Infowars have been known to publish false stories and conspiracy theories on their own, it's possible that the Russian bots were linking out to their sites without their knowledge. 
Nonetheless, the FBI's investigation hopes to get to the bottom of whether or not staff from those right-wing outlets did in fact participate in what a former U.S. intelligence official told McClatchy is "one of the most highly impactful information operations in the history of intelligence."
Part of this "information operation" includes probes into the WikiLeaks source who delivered hacked Democratic National Convention emails that became prominent news items during "key points" of Hillary Clinton's campaign and investigations into Russian "trolls" who allegedly posted pro-Trump stories and comments on the web from their base in St. Petersburg. 
"Russian bots and internet trolls sought to propagate stories underground," Mike Carpenter, a former Obama-era senior Pentagon official told McClatchy. "Those stories got amplified by fringe elements of our media like Breitbart."